The recovery of international air connectivity will favour KLM's hub operations above point-to-point services, according to the Dutch flag carrier's chief executive Pieter Elbers.
While operators elsewhere have been talking up point-to-point services as the quickest to come back, Elbers believes KLM's focus on sixth-freedom operations that tap its extensive regional network will put it in a stronger position.
"A lot of these smaller, point-to-point [services], or smaller airports connecting to the larger ones… these are the last ones to recover," Elbers stated during a Eurocontrol-organised interview today. "The recovery will be led by a lot of small flows, which will be flown throughout the hubs."
He gives the example of someone "travelling from Billund in Denmark to Little Rock in Arkansas", and claims "there's not going to be a direct flight – not tomorrow, not the day after tomorrow, not in the next 10 years".
"We connect all these small and mid-size European cities, channel them through Amsterdam and connect it to places in the US," he continues.
New point-to-point services have accompanied "the economic boom in the last few years", Elbers observes, "but clearly with demand dropping and especially the business segment being away for a longer time, the hub system and our regional network feeding that system will gain in strength again".
Elbers highlights the advantage conferred by KLM being "the largest operator of Embraer aircraft on the European continent", giving it a substantial regional network to feed its Amsterdam Schiphol hub.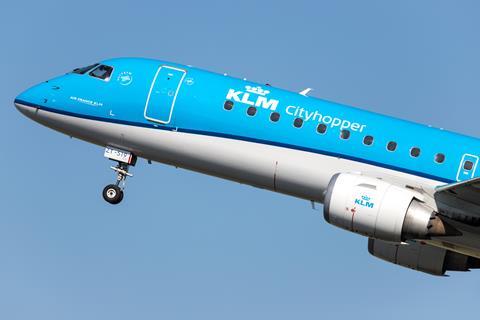 He also cites the Paris hub of sister carrier Air France and its strong relationship with SkyTeam partner Delta Air Lines through its Atlanta base as key factors in KLM's recovery from the crisis.
"We do have, together with our partners, a good foundation to continue to serve that market," Elbers states.
A range of carriers, from United Airlines to Air Astana, have been shifting capacity into point-to-point markets as they seek to capture leisure and visiting friends and relatives traffic during the crisis recovery. At the same time, and in contrast to Elbers' statements, some analysts have suggested that such markets will bounce back more quickly than traditional hub operations.
KLM confirmed in early October that it plans to cut pay, reduce jobs and slim down its fleet in order to secure €3.4 billion ($4 billion) in loans and guarantees from the Dutch government.