KLM plans to cut pay, reduce jobs and slim down its fleet in order to secure €3.4 billion ($4 billion) in loans and guarantees from the Dutch government.
The measures are part of proposals submitted to the national finance ministry outlining how the carrier plans to "overcome the worst crisis in almost 101 years in operation".
The proposals will now be reviewed by the ministry before a final decision is made.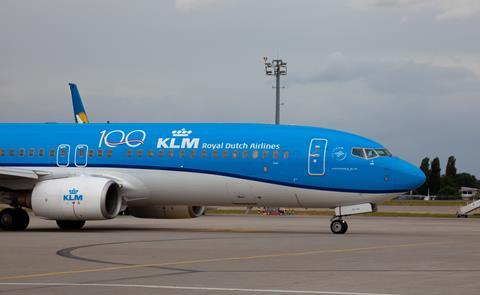 "Substantively, the plan includes elements such as the reassessment of strategy, cost-cutting initiatives, financial considerations, and how KLM staff will contribute by way of reduced employment conditions", says the airline.
Its proposals are based on the premise that its business model remains "valid and valuable", although the carrier envisages that operations will be reduced for an "extended period".
The Dutch government has attached a number of conditions to granting financial assistance, such as the requirement for KLM's staff to accept graduated pay cuts of up to 20% for the duration of the loan.
The carrier has reached agreements with all unions representing ground, cockpit and cabin staff on the plan's implications through 2022.
A further condition is a 15% reduction in controllable costs, which the company aims to achieve through downsizing and "simplification".
The airline is looking at other measures such as the phasing out of leased aircraft and deployment of a more efficient fleet, and will also examine its supply chain for further savings.
KLM has already reduced its headcount through the non-renewal of short-term contracts and a voluntary resignation scheme.
By the end of 2020, KLM will employ roughly 4,500 fewer people than before the coronavirus pandemic began, it expects. Further staff cutbacks may be necessary in the coming months and years, although the airlines hopes to achieve this through voluntary redundancies where possible.
"Today we took a major, exceedingly important step towards restructuring KLM," states chief executive Pieter Elbers. "The plan we submitted to the ministry of finance today is a condition for obtaining a financial package, making this an important milestone in KLM's recovery.
"The aim is to ensure that KLM survives this crisis and emerges stronger than before. The measures are far-reaching and painful for KLM staff, but they are necessary. I am grateful for the support of the Netherlands government and proud of the efforts of all involved – KLM staff, our Works Council and trade unions – who worked together to achieve this result."