UK carrier Virgin Atlantic has announced that it will not resume services to Hong Kong, permanently dropping a route that it first flew in 1994.
The airline cites "significant operational complexities due to the ongoing Russian airspace closures" as having contributed to its decision to drop flights to the former UK territory.
The 5 October announcement comes despite Hong Kong's recent moves to relax what have been among the world's strictest – and longest-lasting – Covid-related travel restrictions. Those restrictions prompted IATA director general Willie Walsh to suggest in September that Hong Kong had lost its status as a global hub.
Virgin Atlantic had already suspended the London Heathrow-Hong Kong service in December 2021 as the Omicron variant of Covid-19 spread, but was due to resume the route from March next year.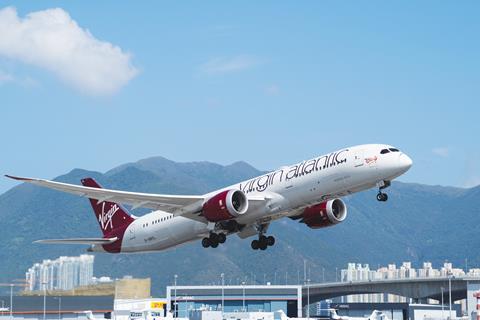 The carrier – which recently revealed that it will join SkyTeam – says it will close its Hong Kong office as a result of the decision.
Virgin Atlantic's Heathrow rival British Airways is due to resume Hong Kong flights in early December, having also suspended services to the territory in December 2021.
Cirium schedules data shows that pre-Covid, Virgin Atlantic was the only carrier competing with Oneworld members BA and Cathay Pacific on the London-Hong Kong route.
Cathay Pacific also links Hong Kong with the UK's Manchester airport.
For 10 years beginning in 2004, Virgin Atlantic offered onward flights to Sydney from Hong Kong.