SIA Engineering has completed an engine test using sustainable aviation fuel and is hoping to perform more of such tests soon.
The MRO unit of Singapore Airlines says the engine tests were conducted on a Rolls-Royce Trent 900 engine, which powers the Airbus A380. SIAEC, together with joint-venture Singapore Aero Engines Services (SAESL) used a 38% blended SAF for the trial.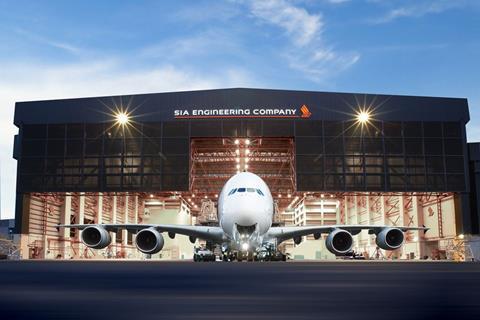 The test — conducted at SIAEC's engine test cell — revealed a 32% reduction in carbon emissions compared to fossil jet fuel, says the company.
Part of the trial also seeks to test infrastructure and operational readiness, as well as logistics, to use blended SAF in test cells.
"The trial paves the way for more engine tests to be performed using SAF when the adoption of SAF scales up in the future," states SIAEC.
Company chief Ng Chin Hwee says: "As SIAEC grows its engine services business, we recognise the importance of mitigating potential impact to the environment. The successful trial using blended SAF at our engine test facility marks SIAEC's capability and readiness to support the aviation industry towards the net zero carbon emissions goal."
In recent months, the push to use sustainable fuels has gained momentum in Singapore.
SIA and low-cost unit Scoot are also embarking on a pilot — slated to kick off in the third-quarter of the year — to use blended SAF for all flights from Changi Airport.
Under the pilot, SIA, with support from the Civil Aviation Authority of Singapore and Temasek (Singapore's global investment company), will buy blended SAF from ExxonMobil, which has been selected to supply and deliver the fuels at Changi Airport.