Qantas has entered an arrangement with a US biofuel firm for Sustainable Aviation Fuel (SAF) to help power flights from Los Angeles and San Francisco to Australia.
Starting in 2025, US company Aemetis will provide the carrier with "almost 20 million" litres (5.3 million USgal) of blended SAF annually, says the airline.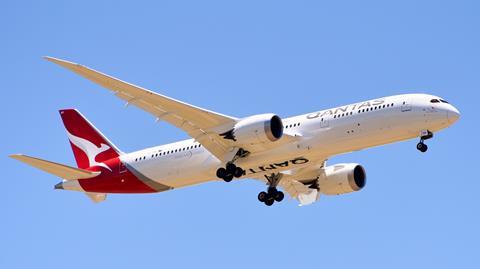 The blended SAF will come from a facility that Aemetis is building in Riverbank, California. The airline did not provide any financial details about the agreement.
"Climate change is front of mind for Qantas, our customers, employees and investors, and it is a key focus for us as we move through our recovery from the pandemic," says Qantas chief executive Alan Joyce.
"Operating our aircraft with sustainable aviation fuel is the single biggest thing we can do to directly reduce our emissions. We're actively looking to source sustainable aviation fuel for our operations, and the deal we're announcing today is hopefully one of many we'll make as the market catches up to demand globally."
Cirium schedules data show that in March 2022 Qantas will operate 56 flights from Los Angeles to the Australian cities of Melbourne and Sydney. Of these, 45 will be operated with Boeing 787-9s, and 11 with Airbus A380s.
This is well below capacity in March 2019 before the coronavirus pandemic. In that month Qantas operated 160 flights from LA and San Francisco to Australia.
Given the fuel capacities of the 787-9 and A380, the Aemetis deal will fuel 157 787-9 flights between California and Australia, and 62.5 A380 flights.
Qantas's USA SAF deal follows the carrier's announcement in December 2021 that it would acquire 10 million litres of SAF in the United Kingdom during 2022 for flights from London Heathrow.