Air Baltic posted a €202 million ($242 million) operating loss in 2020 amid the pandemic, swinging from a €27 million EBIT profit in the previous year.
Revenue at the Latvian carrier declined 72% to €143 million, as the number of passengers dropped to 1.34 million from 5 million in 2019.
The airline's net loss increased 29-fold from €9 million in 2019 to €265 million, Air Baltic has disclosed.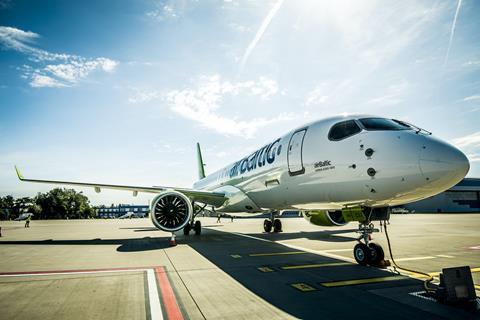 Chief executive Martin Gauss acknowledges: "We saw a dramatic change last year." But he insists the airline's "core vision" of serving Latvia, Lithuania and Estonia as the region's primary airline "remains the same".
The Latvian state has a 96% shareholding in the Riga-based carrier, with the remainder held by Danish businessman Lars Thuesen through his fully owned company Aircraft Leasing 1 SIA.
In order to reduce losses, Air Baltic in 2020 decommissioned its Boeing 737s and De Havilland Canada Dash 8-400 turboprops two years ahead of a plan to become an all-Airbus A220-300 operator, and updated its business strategy now dubbed "Destination 2025 CLEAN".
Air Baltic says that the measures helped it to significantly reduce costs. The airline's staff declined 30%, to around 1,200 at the end of 2020.
Supported by cargo and repatriation flights, the carrier operated around 22,000 flights in 2020, down 64% from the previous year. Still, Air Baltic says it served a total 76 routes from Riga, Tallinn and Vilnius – 12 less than in 2019.
Gauss believes there are "some positive signals" that begin to show increased travel demand. "We have developed several scenarios for the gradual market recovery. Our base scenario reduction is currently in line with the industry wide projections," he states. But he adds: "We are flexible to make further adjustments whenever necessary."
Cirium fleets data shows that Air Baltic has 25 A220-300s, four of which are listed as being in storage, alongside 12 Dash 8-400s. In November, Air Baltic appointed Jetcraft Commercial to sub-lease 11 of the turboprops. The airline has 25 A220-300s on order, and options and letters of intent on an additional 30 of the type.
Seven more A220s will join its fleet this year following an agreement with Airbus in 2020 to push back deliveries, Air Baltic previously said. The airline had signalled that it would have all 50 A220s in service by 2023, but this has been delayed until 2024.