Latvian lawmakers have agreed to grant government-owned Air Baltic another €90 million ($105 million) in equity for the purpose of alleviating pandemic-related losses and helping the airline recover.
The investment requires approval by the European Commission. In 2020, the Latvian government, which owns nearly all of Air Baltic, invested €250 million in the carrier, also for pandemic relief.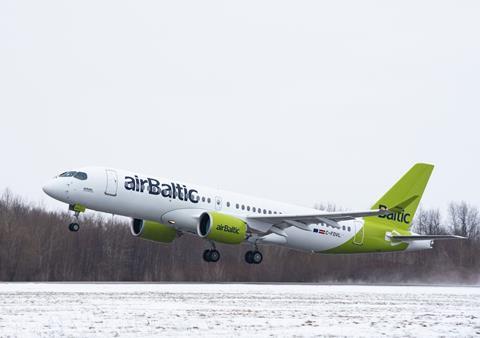 The country's cabinet of ministers on 17 August green-lighted the €90 million "to compensate the losses caused by the ongoing Covid-19 pandemic and to support overcoming the economic crisis", the airline says.
"The investment is planned to be returned to the Latvian state in [the] form of proceeds from selling shares during a planned initial public offering of air Baltic in the future," it adds.
Air Baltic lost €278 million in 2020, with revenue plummeting 73% year on year. The airline's fleet includes 27 Airbus A220-300s, according to Cirium data.
The Latvian government's €250 million equity investment in 2020 brought the government's ownership of Air Baltic to 96%.
"The equity received in 2020 has been used responsibly to maintain the company's operations and cover expenses that could not have been avoided due to the Covid-19 pandemic," the airline says.