Air Canada does not expect to recover fully from the industry downturn until after 2024, though executives insist the airline's rebound is firmly underway.
"The restoration of our network is positive proof that we are now in recovery mode," Air Canada chief executive Michael Rousseau says on 30 March. Rousseau made his comments during the carrier's 2022 investor day, an event at which executives laid out a growth plan while stressing the financial benefits of the company's fleet renewable programme.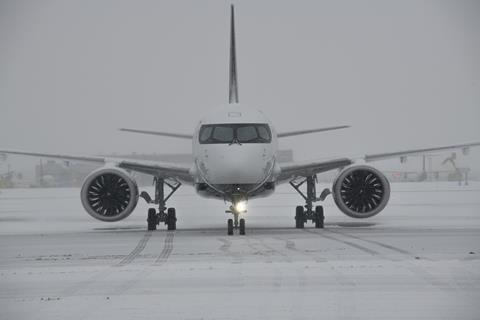 Air Canada expects its capacity in available seat miles will be 50% more in 2022 than in 2021. That gain, however will only bring the carrier's network to 75% of its pre-pandemic size in 2019.
As with airlines globally, Air Canada's near-term focus is to expand on regional, rather than intercontinental, routes, and to capitalise on strong demand from leisure travellers. Rousseau says the airline's capacity in North American is set this summer to hit 90% of 2019 levels.
But lagging demand for business travel, and the tattered state of Air Canada's transpacific business, will delay full recovery for several years, executives say. As such, Air Canada expects its capacity will increase by 2024 to 95% of the 2019 level, with full recovery to follow.
"We are optimistic that by 2023 [and] 2024, the Asia-Pacific markets will rebound as countries progressive open … their borders to foreign travel," says Air Canada chief commercial officer Lucie Guillemette.
In 2021, Air Canada's revenue from sales of passenger tickets on transpacific flights accounted for just 5% of its total revenue, down from 14% in 2019, according to financial filings.
The airline also warns its expenses are increasing significantly due to factors including rising fuel prices and broader inflation. Even excluding fuel expenses (and certain other items), Air Canada anticipates its cost per available seat mile will jump 13-15% year-on-year in 2022.
"Generally, we see this uptick in costs," says Air Canada chief financial officer Amos Kazzaz.
But executives say new, more-efficient aircraft will help Air Canada offset those increasing costs. The addition of 40 Boeing 737 Max, 26 Airbus A321XLRs and 45 A220s will make Air Canada's overall fleet 11% more efficient, according to the company.
The airline expects by 2024 to achieve a 19% profit margin (excluding the impact of interest, taxes, depreciation and amortisation) – the same as in 2019. Air Canada lost C$3.6 billion ($2.9 billion) in 2021.