Breeze Airways, the start-up passenger carrier headed by serial aviation entrepreneur David Neeleman, has abandoned its application to acquire the certificate of now-defunct Compass Airlines.
The move comes just six weeks after Breeze applied for the certificate with the US Department of Transportation (DOT).
Last week, pilot union Air Line Pilots Association, International (ALPA) filed a document with the DOT requesting that Breeze also take over Compass pilots' union contracts. It is unclear if this contributed to Breeze withdrawing its application.
"Compass Airlines, LLC and Breeze Aviation Group, Inc jointly provide notice to the Department of Transportation and all interested parties that they are withdrawing their joint application for the transfer of certificate authority," says Breeze in a filing published on 18 August.
The one-sentence document does not provide additional information.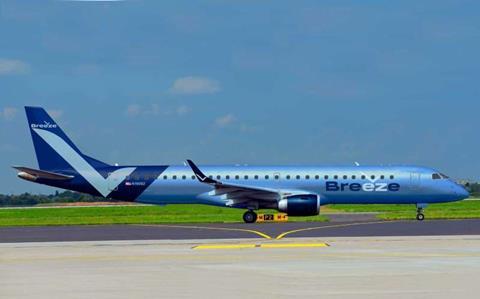 When asked, the airline only says it will move forward with a "stand-alone Breeze DOT/FAA approvals/certificate".
"It won't impact our launch for the new year," the nascent airline adds, without adding further detail.
ALPA asked the DOT on 13 August to require that Breeze assume Compass' pilot agreement as part of acquiring the certificate.
"ALPA does not oppose the proposed certificate transfer provided the joint applicants acknowledge and the department approves the transfer as a successor-ship transaction recognising the Compass pilots' collective bargaining agreement," ALPA's DOT filing said. "The [collective bargaining agreement] provides an orderly means for Breeze to recall pilots in accordance with an established seniority list."
"Compass pilots are well-qualified (indeed, having previously flown the same aircraft type Breeze intends to operate) and are poised to assist Breeze in ramping up operations as demand recovers," ALPA added.
Breeze, which had originally been called "Moxy", had intended to launch air transport services in 2020. The Salt Lake City-headquartered budget carrier pushed back its plans to 2021 due to the coronavirus pandemic and ensuing sharp drop in passenger demand across the air transport industry.
In its 9 July filing Breeze had outlined its launch plan, saying it would begin operations in mid-October 2020 with charter services for six months before entering scheduled service in May 2021. For initial services, Breeze said it had signed a lease agreement with Nordic Aviation Capital to lease 15 Embraer 190 aircraft.
"From… approximately May 2021 [until] August 2021, Breeze plans to… service 15 cities, most of which connect areas of the country known by the pejorative term 'fly-over country'," the airline had said, adding its scheduled operations will include flights to the East Coast, South, Texas and Midwest.
From October 2021, with new, larger Airbus A220s joining the fleet, Breeze said it intended to launch transcontinental flights that would connect both US coasts.
Compass, which flew regional routes for American Airlines as American Eagle, folded in April after the coronavirus pandemic decimated passenger demand.
Breeze is one of two planned new regional carriers which had been announced earlier this year. The other is a yet-to-be named airline, currently based in Houston, backed by former United Airlines and Allegiant Air executive Andrew Levy.