Breeze Airways, the new low-cost start-up airline founded by entrepreneur David Neeleman, is backtracking on a plan to hire only university students to work as flight attendants after coming under fire for the programme last week.
According to the Salt Lake City-headquartered airline's website, it is now recruiting flight attendants outside of the partnership with nearby Utah Valley University (UVU), which the two introduced last December.
The new job description states the carrier is accepting applications for a four-year contract, with "a cash payout" should the candidate complete the contract. It is unclear from the posting if that contract can then be renewed.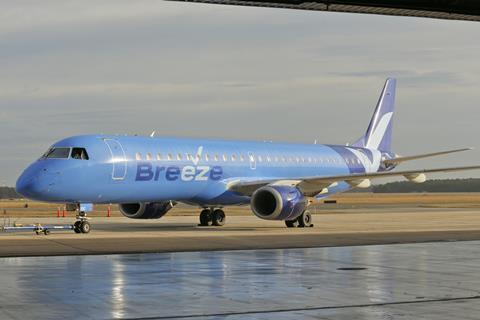 In March, Neeleman had told FlightGlobal "hundreds" of UVU students had already applied for the 150 flight attendant slots, and that it aimed to expand the programme to other universities as the airline grew.
But on 7 May the airline says it had too few candidates to fill all the roles.
"We did get hundreds of applicants but not enough came through to finally become flight attendants so we needed to boost more applicants," the airline says.
The carrier's programme called for hiring full-time students as part-time cabin crew, who would study remotely, and live in Breeze base cities around the country. They would be paid a small salary, with accommodation and tuition costs covered by the airline, opening a path to a debt-free university degree. These flight attendants would leave their jobs when they graduate.
"The nature of our business is nomadic, and we are going to move around with the seasons," Neeleman had told FlightGlobal in March. "So we came up with this idea that we could get young people – who are used to studying online now – work 15 days a month, and give them 15 days off. We provide tuition, a salary, housing and a trip home every month. You may be flying out of one city that's peak in the wintertime, and then switch to another that's peak in the summertime."
But last week, US flight attendant union Association of Flight Attendants-CWA (AFA-CWA) blasted the plan, calling it "age discrimination" and "a direct assault on our profession and careers".
"The takeaway from all this is a very clear and apparent 'gig' style of work similar to those working for Uber, Instacart, Amazon or other 'part-time' employment, with zero path towards job or financial security," the United Airlines chapter of AFA-CWA said on its website on 30 April. "On the surface, you can also extrapolate that most of the people who will 'qualify' for this lifestyle are younger people, with an expiration date when they fail to continue to meet the 'youthful' requirements."
Breeze, whose launch seems imminent, has not yet received final FAA approval to begin revenue operations. When it does, it will be the second of two low-cost airlines to begin operations this year.
The other is Avelo Airlines, which launched in April with flights from a base in Burbank, California, in the Los Angeles suburbs, to a network of 11 cities in the western third of the USA.
Breeze plans to operate a fleet of Embraer 190 aircraft which will be joined by Airbus A220s beginning in October and says it will operate "rustbelt-to-sunbelt" routes between secondary cities.