Breeze Airways' co-founder and chief executive David Neeleman expects his new Salt Lake City-based low-cost airline will be operating flights before this summer, in the process acclimating travellers to an app-centred customer experience.
Breeze, which will fly nonstop routes between underserved and as yet undisclosed small and midsize US cities, has been conceived as an Amazon of the skies. Interaction with the airline will be managed primarily through a "super app".
Breeze customers will be able to book, upgrade, change and cancel flights as if they were ordering and returning products on Amazon or reserving cars on Uber. Further iterations will enable customers to use the app to book hotel rooms, rent cars and order food while in-flight.
Breeze would receive a cut of the profits from all products purchased through its app.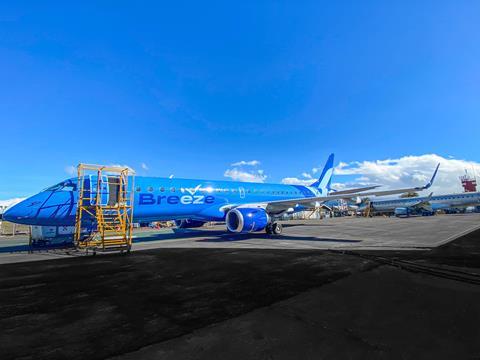 "When I started JetBlue, we called it a customer service company that just happens to fly airplanes," Neeleman said during a 25 February virtual fundraising event in support of the Connecticut-based Norwalk Community College Foundation. "People [still] care about customer service but they want to use their apps, they want to use their smartphones to do everything. So now Breeze is a technology company that just happens to fly airplanes."
Neeleman timed the launch of Breeze to coincide with a ramp-up in the USA of vaccination distribution that could reach the country's entire population of 330 million by the end of the summer. His years of work in the airline sector include founding JetBlue Airways, along with launching Morris Air in the USA, WestJet in Canada, and Azul in Brazil.
Breeze will be focused primarily on leisure travel, which Neeleman expects will rebound strongly as the US population approaches herd immunity, even as larger airlines dependent on business travel must adjust to its delayed return.
"The leisure business is booming," he says. "[Low-cost, leisure-focused] airlines are really starting to make money – Allegiant and Spirit and Frontier. And we think we're going to do it better than all those guys."
Neeleman had intended to launch Breeze by the end of 2020 prior to the pandemic, with an eye to serving midsize US city tandems that have no nonstop service. He now views the cessation of certain US routes and the severe pullback in capacity amid the pandemic as having created more possibilities for rapid growth.
"[Covid-19] created a great opportunity for Breeze. There has been a lot of service pulled out of a lot of markets."
Neeleman is counting on Breeze's app-centred strategy and the availability of inexpensive aircraft to keep costs down, fares low and customers – to use the high-tech world's term – engaged.
"We're really fortunate because we were starting [while] coming out of a pandemic," he says. "We have some airplanes that are very, very inexpensive for us. That's not a new technology thing but it allows us to do a lot of crazy stuff that nobody else could have done pre-pandemic. But the technology that we're most excited about is the super app."
Neeleman admits that both the app and the airline operation will have to approximate flawlessness for Breeze to achieve success in the short term.
"We're trying to figure out how to be efficient because we can't offer $59 fares if we have high costs, if we have people sitting around on phones on hold. We use technology to drive down our costs so we can drive down the fares. The more we drive down the fares, the more people travel and the more people travel the faster we can grow."
Neeleman and Breeze's co-founder Trey Urbahn intend for the airline to have 100 aircraft in its fleet in five years.
"We've got 15 airplanes that are coming this year and then a bunch of new A220s, which is a very exciting airplane that has enormous capabilities," Urbahn said on 25 February.
Breeze has entered into leasing agreements with Nordic Aviation Capital for 15 Embraer 190s, and in October 2020 signed a sale-and-leaseback deal with Voyager Aviation for five Airbus A220-300s. Azul in 2020 disclosed plans to sublease some its E195s to Breeze.
Breeze has so far this year taken delivery of two of the 15 E190s from Nordic Aviation and has one E195 joining the E190s in storage, Cirium fleets data shows. The start-up has 60 A220-300s on order; three will be delivered in 2021, 15 in 2022, three in 2023, seven in 2024 and the rest after 2024.
Neeleman is for now holding off on disclosing any of the routes Breeze will be operating this summer, if indeed the airline does launch as planned.
"Anywhere that doesn't have [air service] where a plane can take off and fly is certainly on our map and radar," he says. "Obviously, government officials are key to this stuff."