Cathay Pacific aims to use sustainable aviation fuel (SAF) for 10% of its total fuel consumption by 2030, as part of what it calls a "multi-pronged approach" towards decarbonising operations.
The Hong Kong-based carrier says it expects to take delivery of SAF produced by Fulcrum BioEnergy — of which it is an investor of — and use it on flights from the US from 2024.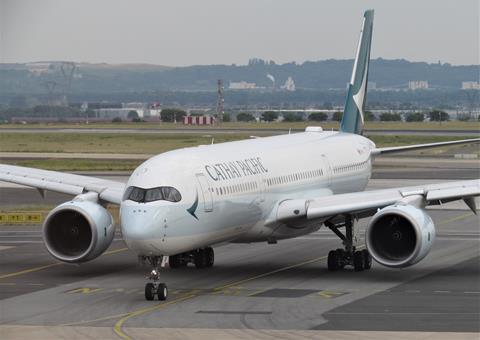 Cathay invested in California-based Fulcrum in 2014, and has committed to purchasing 1.1 million tonnes of SAF over a 10-year period.
The carrier also partners European airframer Airbus to use SAF for new aircraft deliveries. Since 2016, Cathay has taken delivery of more than 40 new aircraft using blended SAF.
Cathay, like other carriers in the region, has committed to attain net-zero carbon emissions by 2050.
"Apart from its increased usage of SAF, other key components of Cathay Pacific's carbon reduction roadmap include fleet modernisation, operational efficiency improvements, aviation and carbon capture technology innovations, and carbon offsets through its Fly Greener programme – which has offset over 300,000t of carbon emissions since 2007," the Oneworld carrier states.
Cathay chief Augustus Tang says that while the airline "has a headstart" in its sustainability efforts, he also called on support from "various stakeholder groups".
Says Tang: "The ability to achieve this target does not rest with airlines alone. We are calling on support from various stakeholder groups to help make it a reality, from policy makers, the energy sector, aircraft and engine manufacturers, and even our customers, who are keen to reduce their carbon footprint."
Cathay's latest announcement comes a week after the Association of Asia-Pacific Airlines, which the carrier is a member of, also committed to net-zero carbon emissions by 2050, and called for a major effort to develop SAF.