Members of the Association of Asia Pacific Airlines (AAPA) have committed to net-zero carbon emissions by 2050, as the association calls for a major effort to develop sustainable aviation fuels (SAF).
AAPA director general Subhas Menon announced the commitment during a media roundtable with journalists. He notes that the AAPA's aim is more ambitious than the existing industry commitment, which aims to halve carbon emissions by 2050.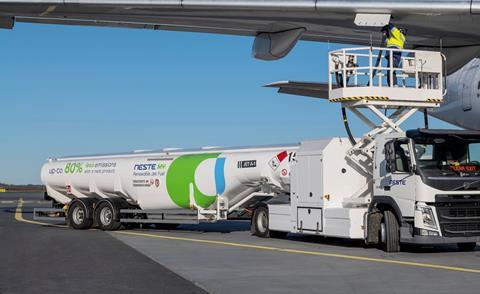 Menon notes, however, that airlines are but one element in the sector's move to a greener future. Achieving the net zero emissions goal will also depend on governments, air navigation services, fuel suppliers, airports, airframers, and engine makers.
Five AAPA members had already pledged to attain carbon neutrality by 2050: All Nippon Airways, Cathay Pacific, Japan Airlines, Malaysia Airlines, and Singapore Airlines.
Menon spent considerable time discussing SAF, which has some way to go before becoming a viable alternative to carbon based fuels.
"The Asia Pacific region will constitute some 40% of global SAF demand, but production and supply facilities in the region are lacking," he says. "Allocation of sufficient resources to convert feedstock, like municipal or agricultural waste, waste oils from food production and other biomass for the production of SAF will make a critical difference."
Menon also reaffirmed the AAPA's commitment to the CORSIA carbon offsetting scheme.
"AAPA wholly supports ICAO's efforts on this front, and will continue to encourage states to fully participate in the scheme," he said.
"In addition, investment in emerging sources of energy such as direct carbon capture and carbon sequestration when these become viable, could complement the industry's efforts towards achieving net zero emissions."
Menon also touched on the coronavirus pandemic, which has taken a heavy control on Asia-Pacific airlines given that the region's international borders remain largely shut. Although vaccine rollouts are proceeding, most countries in the region are below the world average of having 29% of their populations fully vaccinated.
He repeated the AAPA's long-stated view that governments need to work together to simplify and standardise procedures, which will go some way to rebooting travel.
The AAPA comprises 14 Asia-Pacific carriers. During the media roundtable Menon disclosed that Korean Air has departed the association. Asiana Airlines, which Korean is in the process of acquiring, is still listed as a member.