Canadian aircraft lessor Chorus Aviation Capital has reached deals to lease two De Havilland Canada Dash 8-400 turboprops to the company working to launch a US carrier called Connect Airlines.
Chorus reached the lease deals with Waltzing Matilda Airlines, an affiliate of Massachusetts-based aircraft management and charter company Waltzing Matilda Aviation, the Canadian lessor says on 4 August.
Waltzing Matilda could not immediately be reached for comment.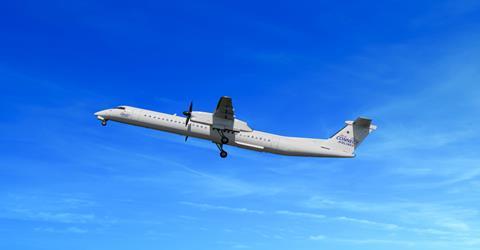 In April, Waltzing Matilda disclosed plans to launch Connect Airlines, a start-up flying between Billy Bishop Toronto City airport and destinations in the Northeast and Midwest USA.
Waltzing said Connect would launch flights in October.
Chorus expects to deliver one of the Dash 8s to Waltzing in September, and the other in November. The lessor repossessed those aircraft in 2020 from British regional airline Flybe, which failed in early 2020.
Waltzing's current fleet includes two charter aircraft: a Cessna Citation 550 and Citation 560XL, according to Cirium data. The company also sells aircraft management services.