Canada's Chorus Aviation reported a profit of C$32 million ($23.9 million) during the first quarter of 2023, boosted by parts sales and strong demand for its regional aircraft leasing business.
For comparison, the company made C$22.9 million during the same three months of 2022, Chorus said during its quarterly earnings call on 9 May.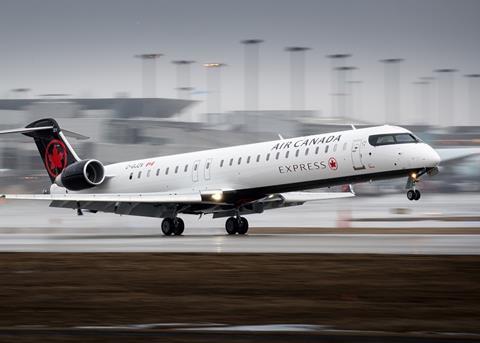 "It is good to see encouraging signs of increasing demand in the regional aviation sector, with improvements in aircraft rental rates and market values," says Colin Copp, who took over as chief executive of Chorus earlier this year, succeeding long-time CEO Joseph Randall.
Nova Scotia-based Chorus owns Canadian regional airlines Jazz Aviation and Voyageur Airways, plus aircraft lessor Falko Regional Aircraft.
Chorus generated revenue of C$415 million during the period, a 21% increase from C$342 million during the first three months of last year.
The company's quarterly costs rose 18% year-on-year, to C$353 million from C$299 million.
'CREATIVE TRANSACTIONS'
Chorus has recently shifted strategy to focus on growing its fund management business through Falko, which "will provide future opportunities to invest in creative transactions in adjacent and complementary business lines", Copp says.
"We continue to transition toward an asset-light leasing model that will reduce our leverage, the risks of the business and provide a higher quality of earnings as we execute on asset sales," he adds.
Chorus' revenue from parts sales, third-party MRO activity and contract flying increased by C$6.7 million compared with the first quarter of 2022.
"For the first time in our history, Voyageur earned C$30 million in quarterly revenue, driven mainly by improved parts sales," Copp says.
The company's bottom line was also boosted by an increase of aircraft-leasing revenue of C$2.4 million "primarily due to a higher US dollar exchange rate", Chorus says.
"During the quarter, Falko announced transactions relating to 24 aircraft, including lease extensions on six aircraft primarily related to the regional jet sector and European markets," Copp says.
The largest regional operator in Canada, Jazz – which flies under the branding of Air Canada Express – currently has 107 regional jets and turboprops in service, according to Cirium fleets data.
Chorus anticipates generating revenue between $1.5 billion and $1.7 billion for the full year of 2023. Last year's revenue totalled C$1.6 billion.