Swiss has walked away from labour talks with pilot union Aeropers and terminated a collective agreement with the body amid a dispute over planned restructuring in response to the pandemic.
The Lufthansa Group subsidiary intends to reduce its fleet as demand is projected not to recover to pre-crisis levels for years, and says that "Aeropers is unwilling to commit to adequate contributions" to the plan.
"Swiss will have a significant surplus of pilots in the next few years," the airline says.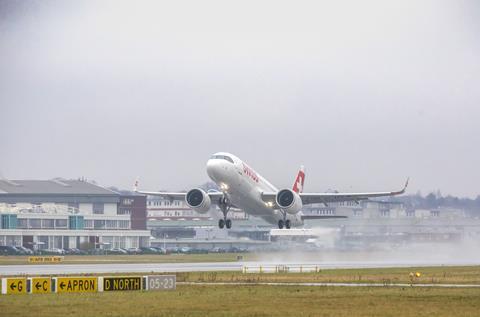 It asserts that the talks with Aeropers, which began in August 2020, were aimed at reaching a "new and forward-looking collective labour agreement which would be aligned to the demands of the difficult crisis years ahead". The existing labour agreement, the carrier adds, "is not suited to either the challenges of the coronavirus crisis or the re-establishment of the company in an uncertain and volatile future".
The union, on the other hand, wanted to discuss only temporary measures under the existing labour agreement, Swiss says. "Without substantial contributions and an expanded scope of action during the coronavirus crisis, we believe it would be irresponsible from a corporate and a business perspective to retain the present collective labour agreement," states chief operating officer Thomas Frick.
Concluded in 2018, the existing collective agreement will remain in place until 31 March 2022. Aeropers says that the open-ended agreement includes a clause that it can only be terminated from the end of March 2021 with a one-year notice.
Aeropers acknowledges the "immense challenges" airlines are facing and says that Swiss pilots are "very interested" that the carrier emerges from the crisis successfully. But the union's president, Kilian Kraus, states that cost cuts must be "proportionate and understandable".
Noting a recent deal about "temporary adjustments" of an existing collective agreement for pilots at Swiss's leisure arm Edelweiss Air, Aeropers says that it made a range of cost-cutting proposals including "numerous socially acceptable ways of managing [pilot surplus] through attractive part-time models". These offers have been consistently refused from the airline's "highest level", the union asserts.
It accuses Swiss of taking the restructuring as an "opportunity" to abolish "disruptive" parts in the existing collective agreement.
Kraus describes Swiss's termination of the contract as a "devastating signal" for employees and says the move will "significantly reduce" their willingness to accept major cuts in coming months.
Swiss, for its part, says that it is "fully committed" to its social partnership with the union.
"We are convinced that, together with Aeropers, we can conclude a viable new collective labour agreement for our pilots that pays due regard to the present crisis times, that is fit for the future and in particular also meets the requirements of modern working time models," Frick says.