IATA director general Willie Walsh has expressed confidence in the investigation into the crash of China Eastern Airlines flight MU5735, while praising China's safety record during an extended period of huge traffic growth.
Investigations are continuing into why a China Eastern Boeing 737-800 crashed while operating a Kunming-Guangzhou service on 21 March, killing all 132 people on board.
Sending his condolences to those affected by the crash, Walsh stresses during an IATA media briefing on 6 April the importance of waiting for the results of the investigations.
"There is no point in speculating," he says regarding the potential causes of the crash. "I have no doubt we will see a very comprehensive assessment."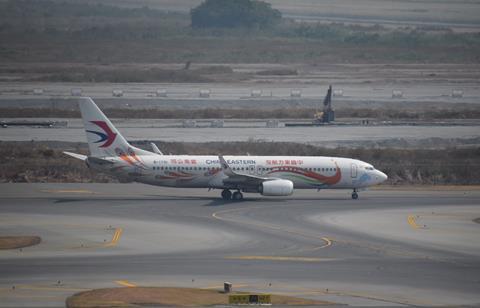 He further suggests it is important to "reflect on the fact that the safety record in China has been really, really good".
Indeed, while the crash was China's deadliest this century, according to FlightGlobal analysis of Cirium data, it was also the first fatal incident in the country since August 2010, when 42 people were killed in a crash involving a Henan Airlines Embraer E190.
Cirium schedules data shows that capacity on domestic routes in China more than doubled between August 2010 and the eve of the Covid-19 pandemic, with capacity on international services to the country was around three times higher across the same timeframe.
"With the very high levels of growth that we've witnessed there, if I look back over the last 10 years, I think the industry, the regulator and the government have done an outstanding job to be able to grow the industry at a significant pace while maintaining a very clear focus on the safety, security and integrity of the operation there," Walsh states.