Lufthansa Group is still evaluating whether to carry out a partial divestment of its MRO business despite progress on improving its balance sheet.
The group secured financial support during the initial Covid crisis from the governments of its home nations, most notably major funding from Germany's Economic Stabilisation Fund.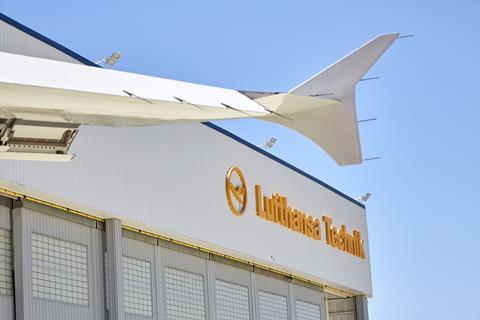 The airline has already paid back the largest parts of the stabilisation measures after completing a €2.2 billion ($2.5 billion) capital raise this summer, and has reiterated its intent to return the remaining €1 billion by year-end and to cancel the undrawn part of the financing package.
"We have come a long way with regards to our operational and financial restructuring," said Lufthansa Group chief executive Carsten Spohr, on a third-quarter results call today. "I am not aware of any other airline, of significant size in the world, which has paid back its stabilisation packages as fast as we are doing."
It marks early steps as the airline eyes an investment-grade rating in the medium term.
Lufthansa chief financial officer Remco Steenbergen says: "We clearly believe investment-grade rating is helpful: it helps you in terms of cost, but also having a strong balance sheet helps you to get through storms."
He says the capital raise was one of three key strands to achieving this. The second of these is restoring profitability. The airline in the third quarter recorded a small adjusted EBIT profit before restructuring costs for the first time since the pandemic hit, and aims to have no cash drain in the more challenging fourth quarter.
"For next year as well we have the ambition to stay cash-flow positive and as of 2023 we should come back to cash contribution to help further restore the balance sheet," says Steenbergen.
The final part of strategy is potential divestments. The group has already indicated it will consider the sale of travel management company Airplus and catering unit LSG when the market recovers sufficiently, potentially in the second half of next year.
It has also previously said it was looking at a possible sale or IPO of a minority stake in its MRO unit Lufthansa Technik. "We started an evaluation to have a really good think before deciding whether we would want to go into a process," says Steenbergen, noting this process is ongoing and no conclusions have been reached.
Restructuring efforts and a pick-up in travel demand helped Lufthansa Technik turn a profit in the three months ended 30 September.
"Lufthansa Technik had a very good third quarter with €165 million EBIT excluding restructuring costs. This is something which is partly caused by very good cost management, as well as some specific very good business we had in the third quarter," Steenbergen says.
"We believe Lufthansa Technik is in general on a very good course and we are targeting an EBIT percentage going forward which is above the average of the group, so we are very happy with that."