Lufthansa has submitted an offer for ITA Airways under which it aims to secure a deal to initially acquire a minority stake in the Italian carrier with an option to take full ownership at a later date.
The German airline group has appeared the most likely bidder for ITA since a period of exclusive talks with the Certares consortium – which included Air France-KLM and Delta Air Lines as strategic partners – ended last October with no agreement. Air France-KLM today confirmed it will not participate in the sale tender, while Italy's finance ministry has since said Lufthansa's is the only bid it received as of an 18:00 deadline today.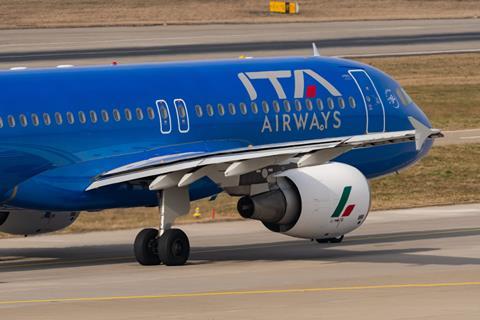 Italy has since relaunched efforts to secure an investor for ITA, and while Lufthansa's original consortium partner MSC has since dropped out of the process, the Star Alliance airline group has now confirmed it has submitted an offer for ITA.
"The plan is to agree on the initial acquisition of a minority stake as well as on options to purchase the remaining shares at a later date," says Lufthansa.
"Today, the company submitted an offer to the Italian Ministry of Economy and Finance to conclude a memorandum of understanding in this respect. Contingent on both parties signing this MoU, further negotiations and discussions would be conducted on an exclusive basis.
"These talks would primarily focus on the form of a possible equity investment, the commercial and operational integration of ITA into the Lufthansa Group, as well as resulting synergies. In case a binding agreement is reached, its implementation would be subject to approval by the relevant authorities."
Lufthansa Group already includes wholly-owned carriers Austrian Airlines, Brussels Airlines and Swiss International Air Lines, as well as Italian regional carrier Air Dolomiti. The group reiterates its view that Italy is the most important market outside of its home nations and the USA.
Should a deal be completed, it would raise questions on ITA's continued membership of SkyTeam. Lufthansa and its affiliate network carriers are all members of Star Alliance, while ITA Airways replaced predecessor Alitalia in SkyTeam.
Air France-KLM, a partner of ITA in SkyTeam, has today told the Italian government it will not participate in the sale tender. The carrier had been a strategic partner in the consortium led by private equity firm Certares. However a late December decree from the new Italian government, which took office in October, required airlines involved to ultimately hold a majority of ITA at the point at which the state exited the carrier''s shareholding.
"Air France-KLM previously took part to the process regarding ITA's privatisation as part of a consortium....and intended to be part of the process as a potential commercial partner solely," it says.
The carrier adds it will continue to "closely monitor the privatisation process" and reasserts "its strong interest to maintain its commercial relationship with ITA".
Adds comment from Air France-KLM and Italy's finance ministry