Few could have accused Airbus of lacking ambition when in September 2020 it unveled conceptual designs for a potential zero-emissions commercial aircraft and a 15-year horizon for its entry into service.
Notably, with all three clean-sheet concepts to be powered by hydrogen, it marked the most ambitious backing for the fuel amid the myriad of technologies that have emerged to help aviation deliver on its quest to reach net-zero by 2050.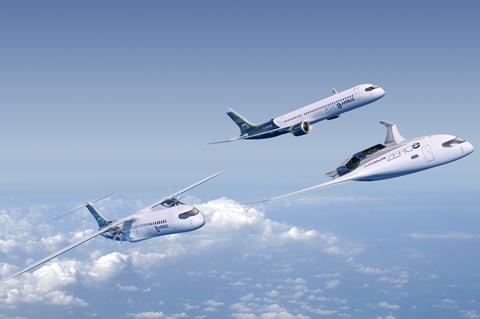 Two and a half years on – or one-sixth of the way towards that 2035 service-entry target – Airbus head of research and technology, Mark Bentall, says the target has not moved.
"Our roadmaps have been on the 2035 timeframe and at the moment we don't see any reason to change that," he told FlightGlobal at the Sustainable Skies conference in Farnborough in April.
"Our constant search is to see if there are any show-stoppers, that is why we do technology research, and we are not finding any. So that is very encouraging.
"I'm not saying it's easy," he adds, acknowledging the scale of the task ahead. "But we are not trying to break the laws of physics with any of this. The fuel and the energy source are very well known, the handling characteristics are well known."
But the challenge is not how to extract energy from hydrogen – be that through fuel cells or combustion – so much as how to incorporate it into a product: "That's what we've got to try and crack, because that is what is going to turn into a reality. That means we have got to focus on the certification, the safety aspects, the airport aspects, the refueling aspects.
"All of those things are what turn a nice experimental set of technologies into something that is useable, and that provides the range, the seating capacity and the safety [required]."
PROGRESSING PROPULSION OPTIONS
If the scale of the challenge facing the industry is daunting and the potential role of hydrogen in aviation ground-breaking, the quest to make operations more efficient is in itself nothing new. And it remains a multi-faceted approach.
"From a technology point of view, we've always worked on reducing fuel burn," Bentall says. "Maybe for different reasons in the past, but the techniques and technology have always been there from the very start of aviation."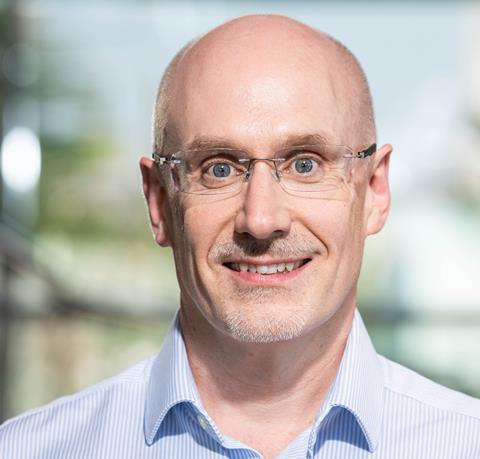 In his view, improvements to the propulsion system and wing are the "biggest drivers" to cutting fuel-burn and emissions. Here Airbus and partners are progressing a number of initiatives.
Bentall cites the airframer's work with Rolls-Royce on its UltraFan engine demonstrator, which is designed to deliver a 10% fuel-burn improvment over the Trent XWB powering the A350 widebody. The first engine to test is due to run 'imminently'.
"This is a key technology. The engine guys know how to make more efficient engines and that's where you end up with the UltraFan, which is great for widebodies."
And in the narrowbody space, Airbus is working with CFM International to flight test the propulsion specialist's RISE open-fan demonstrator later this decade aboard an A380 testbed. Crucial to that effort will be the integration of the engine and airframe.
"At the end of the day, the two have got to work together. There are trades going from a closed-fan to an open-fan [design] and so you've got to make sure those trades work in your favour," he says.
Initial steps will see both parties perform design integration studies "and then we bring the two together and we try it in flight and see how it performs.
"The open-fan has been working on the ground and now it is coming close to the next point to get it up in the sky."
DEVELOPING WING TECHNOLOGIES
If the propulsion element is largely out of Airbus's hands, the wing at least is a core area of expertise from which it can wring further improvements.
Last summer, the first full-size wing demonstrator developed and built under its multi-national Wing of Tomorrow programme was delivered, while through the 'Extra Performance Wing' initiative – one of a number programmes run through it's innovation arm Airbus UpNext – is evaluating several different technologies to validate aerodynamic performance improvements that could be applied to a future aircraft.
"The Wing of Tomorrow is looking at that future wing, what could it be and how do you make it? How do you manufacture it? We are at the higher end of the production numbers, so you've got to be able to produce at rate, you've got to make sure you are minimising waste," Bentall explains.
"And on the efficiency side, you've got to look at what technologies can give me a high-performing wing. That is where the 'X-wing' is coming in so we can look at different techniques to make a higher-aspect-ratio wing.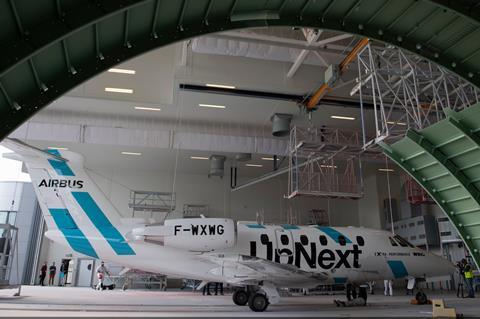 "There are various different ways you can do it. So we are looking at the active adaptive, we are looking at the aero-elastic hinge, we are looking at some other technologies which we will now fly and see which ones work. We've tried those things in our windtunnel now, so the objective is clear.
"The portfolio of technologies, concepts and ideas is rich, and it is really trying to make sure we are getting the best combinations. Not all of them will make it. Every technology has to buy its way onto the aircraft," says Bentall.