Italian aerospace champion Leonardo will continue to build and ship fuselage sections and other aerostructures for the Boeing 787 programme, despite the US airframer's planned 14-day suspension of production in the Puget Sound region.
Leonardo supplies the 787's section 44 and 46 central fuselage barrels, which it builds at its plant in Grottaglie in the south of Italy, plus horizontal stabilisers from its Foggia factory. In total, about 14% of each airframe is made by the company, it says.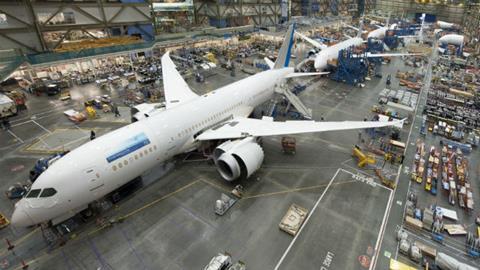 Boeing on 23 March said it would halt production at its Everett, Washington, widebody final assembly line from 25 March due to the "escalating spread of the coronavirus" in the Puget Sound region and the state of emergency declared by the authorities there.
Infections have also hit Boeing's workforce, with 32 employees testing positive for the coronavirus as of 23 March, according to the Seattle Times newspaper.
Boeing also builds all three variants of the 787 at its factory in North Charleston, South Carolina, which will continue to receive shipsets dispatched from Leonardo, the Italian company says.
However, a worker at the North Charleston plant has tested positive for the virus, reports the city's Post and Courier newspaper.
Although Italy has instituted a closure of all non-essential industries, aerospace and defence factories are exempt from the latest restrictions.
"Our sector is highly strategic and our aim is to ensure production continuity but without any compromise on safety and health," says Leonardo.