Politicians from both houses of the US Congress continued negotiating a bill that would offer the air transport industry financial support in order to secure jobs and keep airlines afloat as the coronavirus crisis ravages the industry.
The House of Representatives' bill, published on Tuesday, would link any aid for the sector to strong labour, environmental and consumer protections - all issues that are important to the Democratic Party-led legislative chamber.
The "Take Responsibility for Workers and Families Act," put forward by the House Transportation and Infrastructure Committee, places "critical guardrails on financial assistance for air carriers" as it offers the industry comprehensive aid to try to alleviate the financial stress it is suffering due to the global pandemic.
Last week, the Republican-led US Senate released a competing bill, offering $58 billion in secured loans to the aviation industry alone.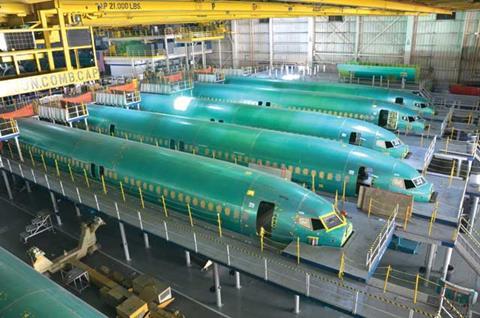 Lawmakers have reportedly been negotiating the final aid package for several days now, which both chambers of Congress must approve, and that President Trump must sign. Sticking points include worker protections, the degree to which aid will be in the form of grants or loans, and whether the government will take equity in, or set other conditions upon, companies that receive aid.
Boeing chief executive David Calhoun insisted in an interview with Fox Business that government aid to the struggling airline and aerospace sectors should not be contingent upon the government taking equity in US companies, adding that the manufacturer remains financially sound despite the coronavirus crisis.
The Chicago-based planemaker said on Monday that it was halting production in its Seattle-area facilities after reports that one employee had died of the coronavirus. On Tuesday it instructed suppliers to stop shipments to these production sites.
Spirit Aerosystems, an airframe supplier to Boeing, said on Tuesday it will suspend work at three facilities in Kansas and Oklahoma, and send its workers home for 14 days. Spirit will continue to pay workers during that time. Aerospace supplier Triumph Group said it would will be laying off 250 full-time salaried staff and 250 contractors as well as reduce executives' pay and suspend pay increases in an effort to conserve cash.
In South America, Colombian flag carrier Avianca, and Brazil's Azul and Gol have all cut their operations to skeleton service. Avianca has suspended domestic flights through at least 12 April, citing the Colombian federal government's closing of the country's airspace, which begins on 25 March.
Azul has reduced its planned capacity through 30 April by 90%. Beginning Wednesday Azul expects to operate just 70 nonstop flights per day to 25 destinations as opposed to a regular schedule of approximately 26,000 flights to 106 domestic destinations during an average month. Competitor Gol has dropped its domestic capacity in Brazil by 92% and its international capacity by 100% through early May in response to falling demand.
In Canada, meantime, Calgary-based WestJet announced that it was cutting about 50% of staff or 6,900 employees. In a video message posted on the airline's website, chief executive Ed Sims said 120 aircraft, or two-thirds of the company's fleet, have been grounded as a result of the recent sharp drop in passengers.
Here are the details: