MTU Aero Engines' Zhuhai-based joint venture has inducted its first Pratt & Whitney PW1100G geared turbofan for overhaul, following the MRO's entry into the enginemaker's global network of MRO providers in December.
An P&W announcement dated 28 September says the engine was a PW1100G-JM, which powers the Airbus A320neo family aircraft. No further details were given.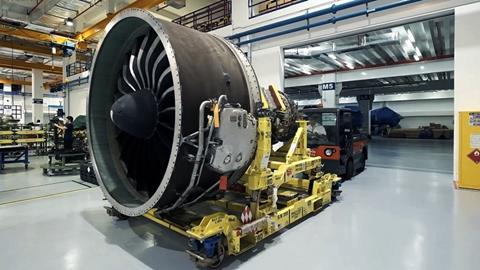 With the engine induction, MTU Maintenance Zhuhai — a joint venture between China Southern Airlines and German engine specialist MTU — will be P&W's first active MRO facility in China.
The company joined the global network in December 2020, becoming Asia's fifth PW1100G MRO centre, after Ameco in China, Eagle Services Asia in Singapore, as well as IHI and Mitsubishi Heavy Industries Aero Engines in Japan.
Says Joe Sylvestro, P&W vice president for aftermarket global operations: "To have an active shop in China brings immediate benefit to our customers in region. We are eager for the induction pace to build and for our other [PW1100G MRO] network members in China to begin maintenance operations as well. All of this helps to enhance our customers' operations."
There are currently 11 Chinese carriers operating a fleet of around 200 PW1100G-powered A320neo family aircraft.
The announcement comes as P&W marks the fifth year of PW1100G engine operations in China. Since being rolled out in 2016, the enginemaker says the PW1100G has clocked over 400,000 flights, with over 1.73 million flying hours.
In a statement issued alongside the opening of the 2021 edition of Airshow China in Zhuhai, the enginemaker reiterated its commitment to the Chinese market.
Says P&W China president Yogesh Farswani: "Pratt & Whitney has powered Chinese aviation for more than 90 years, and we continue to grow our presence in the region to deliver the full spectrum of service and support closer to our customers.
"We are committed to customising solutions to meet our customers' unique and evolving business needs – in a decade and world where the pace of change and demand for innovation are accelerating."