Japan's IHI has announced a "breakthrough" in magnet technology for high-speed motors, which could enhance the performance of future electric aircraft.
The company says that it and local collaborators have produced a "high-flux plastic magnet prototype" that could have applications in ultra-high-speed motors for both aircraft and cars.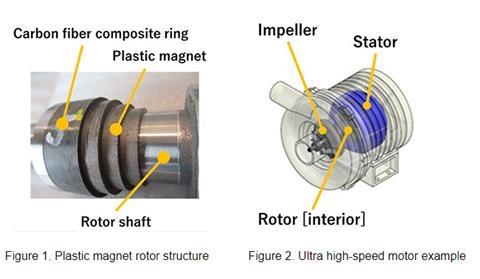 "These magnet rotors, or motor rotors, result from injection molding molten plastic and powder magnet composites, orienting them in a magnetic field similar to that of a Halbach array to maximize magnet utilization efficiency," says IHI.
"The result is high motor efficiency, compactness, and lightness. Injection molding greatly reduces machining, cutting manufacturing times and costs."
In a Halbach Array, the magnetic force on one side of the arrangement is far stronger than on the other side.
The injected plastic magnet is covered with a carbon fibre-reinforced polymer ring, creating a structure that can withstand speeds of 100,000 revolutions per minute.
IHI adds that the magnet's composition of 50% plastic could halve the amount of rare earth minerals required for the same amount of output.
IHI adds that the Japan's Joint Research Center for Electric Architecture assessed the prototype and confirmed that performance "matched or bettered that of regular sintered magnet rotors in which magnets account for all of the designed magnetic force."
To develop the new magnet rotor, IHI worked with Akita University and three Akita-based companies: Miyakoshi Seiki, Furuya Mold, and Kobayashi Industry.
IHI, which plays a key role in the supply chain of several commercial engines, is active in researching technologies for new engines.
In April it announced that itself and local collaborators had created a prototype 250kW electric motor for aircraft use. Intended for use in a hybrid-electric propulsion system, the motor could be scaled up to 1MW, allowing it to form part of the propulsion system for a 200-seat passenger aircraft.