Australia's Regional Express has taken a 20% shareholding in advanced powertrain firm Dovetail Electric Aviation, more than half a year after it signed a memorandum of understanding with the Australian start-up.
The investment "formalises the strategic partnership" between the two companies, Rex states on 14 April. The airline did not state how much its equity participation is worth, but says it will now have a presence on Dovetail's board.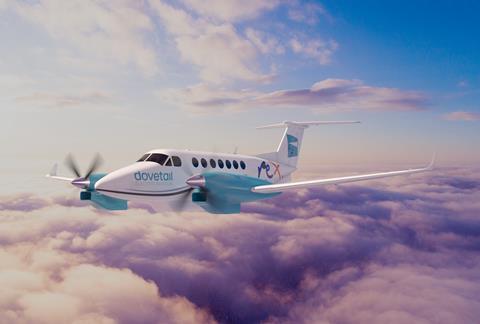 In July, Rex said it would be investing in Dovetail, and provide an aircraft as a testbed for the latter's conversion programme. At the time the airline said the "strategic investment" could potentially lead to its turboprop fleet being converted in the future.
Dovetail was founded in 2021 as a joint venture between Sydney Aviation Holdings and Spain's Dante Aeronautical and is working on the electrification of legacy turboprop aircraft, initially the Cessna Grand Caravan but potentially also the Beechcraft King Air. It has previously attracted investment from Spanish carriers Air Nostrum and Volotea.
The company in January received A$3 million ($2.04 million) in Australian government grants for the development of electric propulsion systems for regional aircraft. Dovetail also completed ground testing involving a small-scale electric propulsion system to power a three-bladed propeller.
Once it has obtained supplemental type certification for the modifications, Dovetail intends to open conversion centres in Australia, Europe and Singapore, with the USA and Middle East also under consideration.
This story has been edited to include additional detail in the fourth paragraph.