Australia's Regional Express (Rex) will bid to become the next aviation operator for the Australian Antarctic Program (AAP).
Rex has replied to a request for information (RFI) related for the requirement, and is preparing for a request for tender that is expected in November.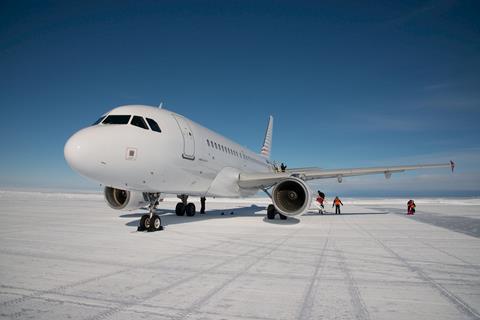 According to Rex, the requirement calls for the provision of one large passenger jet, four turboprops that can operate on skis, and four twin-engined helicopters that can also operate from the Australian icebreaker RSV Nuyina.
The ability to operate unmanned air vehicles is also required, particularly in the October-March period.
"This ambitious and challenging programme requires an operator that has deep knowledge of aviation across a whole range of platforms as well as proven organisational excellence in operating special missions," says Rex's Antarctic project manager, Craig Martin.
"We believe there is no better Australian candidate than the Rex Group with its expertise in operating a fleet of 150 aircraft in every state, ranging from Boeing 737-800NG, Embraer E190 airliners, De Havilland Dash 8-400 turboprops, over 55 Saab 340 turboprops, one of the largest fleet of Beechcraft King Air aircraft in Australia, and the recently introduced Pilatus PC24 jets."
When contacted, the AAP declined to comment on either the RFI, the upcoming tender, and on whether it had received interest from other parties.
Rex indicates that its bid will involve a consortium, with industry partners brought in to help with specialised elements of the programme.
According the AAP's website, an Airbus A315-115LR operates between Hobart and Wilkins Aerodrome in Antarctica during the Australian summer.
The leased aircraft is operated by Skytraders and has a range of 5,000nm, allowing it to fly a return trip without refuelling in Antarctica. The Hobart-Wilkins flight takes 4h 30min in either direction, with the aircraft typically spending 2h on the ice at Wilkins.
Boeing C-17 strategic transports operated by the Royal Australian Air Force also operate the Hobart-Wilkins route.
For air services within Antarctica, Kenn Borek Air operates Basler BT-67s and De Havilland Canada DHC-6 Twin Otters equipped with skis. The BT-67 is a remanufactured Douglas DC-3 powered by Pratt & Whitney Canada PT6 turboprops.
AAP also uses Airbus Helicopter AS350 B3 helicopters in Antarctica. Roles include ice reconnaissance, ship-to-short cargo transport, and supporting scientists conducting field work.