SIA Engineering swung to a net profit for the half-year, helped by better operating performance and a lack of hefty impairment costs.
Still, the MRO unit of Singapore Airlines was in the red at the operating level, though it narrowed its losses on the back of rising revenue.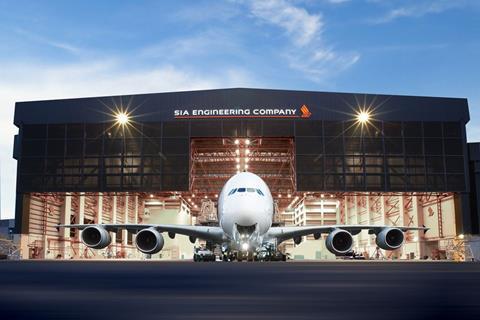 For the six months to 30 September, SIAEC reported an operating loss of S$6.7 million ($4.96 million). This compares to the S$27.2 million loss it made during the same period in 2020.
Revenue for the half-year rose about 18% year on year to S$264 million, as flight activities increased both in SIAEC's Singapore hub and overseas bases.
Costs for the period rose 8% to S$270 million, mainly due to lower government wage support, as well as a ramp-up in maintenance activities.
SIAEC reported a net profit of S$25 million, reversing the S$19 million net loss last year, which took into account a significant impairment cost.
Against 2020's low base, SIAEC"s line maintenance unit in Singapore handled 84% more flights for the period, though it notes that the volume of work was only a quarter of pre-pandemic levels.
It adds that its overseas line maintenance bases were recovering faster, mainly because of a recovery in domestic travel.
Says SIAEC: "At base maintenance, the number of aircraft maintenance checks performed during the first half was higher year-on-year. However, many of these checks were of lighter work content."
SIAEC offered a cautious outlook, noting that while high vaccination rates have led to some easing of restrictions, "there remain uncertainties for a sustained global recovery".
"The risks of new variants, spikes in infection rates or tightening of restrictions are reminders of the uncertain and uneven impact of the pandemic on the trajectory, timeline and levels of recovery in air travel across the world," the company states.
With wage support measures progressively easing, SIAEC says cost management will remain a "high priority".
"While we are ensuring our readiness to scale up at the appropriate levels to meet the changing demands for MRO services, the performance going forward will be dependent on the revenue recovery outpacing the tapering off of government wage support and our gradual and prudent reinstatement of manpower management measures," says SIAEC.