SIA Engineering (SIAEC) will part out two Airbus A380s and one Boeing 777-200ER at Changi Exhibition Centre, the location of the Singapore Airshow.
"Usable parts from the A380s that are parted out will be retained as spare parts to maintain SIA's operating A380 fleet," says SIA, in response to FlightGlobal's queries.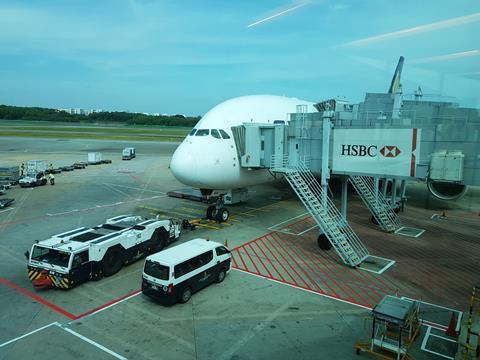 Some parts and materials will be repurposed for SIA's recently announced Upcycling Project, whereby the airline will "provide parts and materials from retired commercial aircraft to Singapore-based organisations and selected global retail brands."
The parting out work will take about two months, says the carrier. The Singapore Airshow is scheduled to take place from 15-20 February, 2022.
Parts and materials it deems suitable for the project include the jets' fuselage, cabin windows, overhead compartments, aircraft seats, life vests, soft furnishings and linens, and galley equipment such as carts and racks.
The registrations of the A380s are 9V-SKH (MSN 021) and 9V-SKG (MSN 019).
Cirium fleets data shows that 9V-SKH was delivered in May 2009, and parked in March 2020. 9V-SKG, for its part, was delivered in June 2009, and was also parked in March 2020.
SIA's A380s are powered by Rolls-Royce Trent 900 engines.
The 777-200ER that will be parted out bears the registration 9V-SQJ (MSN 30875). The aircraft was delivered in June 2002, and parked in August 2018 as the carrier started drawing down its 777-200ER fleet.
In its results statement for the 2020/21 financial year ended 31 March, SIA indicated that it had 12 A380s in its fleet as of 31 March 2021, and that this number would remain unchanged by 31 March 2022.
Before the pandemic, SIA had planned to operate a fleet of 19 A380s during the 2020s, but said in 2020 that seven examples would be permanently retired.
SIA's entire A380 fleet is listed as being in storage.