Airbus chief executive Guillaume Faury believes the airframer's pandemic-related predicament over the last 18 months would have been far worse had it not independently opted to terminate the A380 programme.
Emirates has become the latest to scrap early-delivery aircraft, after tying up with a recycling firm to assist with dismantling its first A380. The jet was only delivered in July 2008.
Initial aircraft for Singapore Airlines and Air France have also been broken up.
Airbus halted the A380 programme in February 2019, one of the final acts of Faury's predecessor Tom Enders, after Emirates – which was single-handedly keeping the programme afloat – slashed its backlog for the type.
"Honestly, with the benefit of hindsight – and it's always easier to be smart afterwards – we stopped it ahead of Covid, and it was really the right thing to do," Faury tells FlightGlobal.
"We'd have been in a much more difficult spot with the A380 still in full swing in the midst of Covid."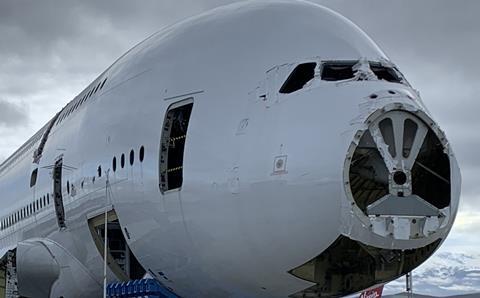 While the A380 had been marketed on the basis of allowing airlines to cope with the growth of 'mega-hub' airports, Faury is not prepared to concede that the basic strategic rationale was entirely wrong.
"I'm always a bit suspicious when there is strong opposition between things that are not necessarily digital," he says.
"I wouldn't see the decision on the A380 as a philosophical decision on 'spoke versus hub' or 'hub versus spoke'. Hubs still exist, they're super important to serving the long-haul market."
Faury acknowledges that new technological advances, enabling development not just of the A350 but the long-range A321XLR, has given "more room to breathe" to the 'spoke' approach, "but it's still hub-and-spoke".
Airbus is preparing to deliver the final A380s to Emirates, the last of its order for 123, ending a production run of 251 aircraft.
The Dubai-based carrier is a customer for the A350-900, intending to take 50 aircraft in an agreement which accompanied its A380 order cancellation.
"I think what was important for the [Airbus] decision [to terminate] the A380 was the size of the market for that product – and the evolution of technology that gives an edge to the long-range twin-engined widebody," says Faury.
"And I think that's why we see, progressively, the market going from four-engined widebodies to twin engines.
"That's the sort of natural evolution we've observed. In that sense I think it was the right decision to accelerate big time on the A350 and come to the conclusion that the A380 has a long life in service, but it was probably the right time to stop production."