As international markets start to open up, China and India are significant question marks for the long-term strategy of Singapore Airlines.
In the first six months of airline's 2021/22, financial year, SIA generated S$1.7 billion ($1.3 billion) on East Asian routes, up 82% from a year earlier, when coronavirus-related travel restrictions were firmly in place.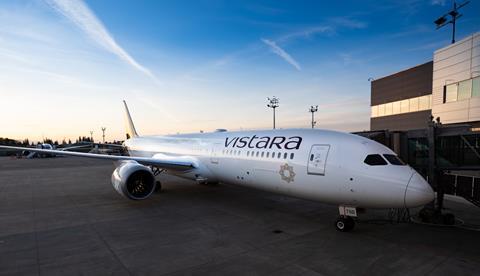 Similarly, revenue from West Asia and Africa doubled to S$146 million.
SIA's outlook for East Asia is clouded by China's strict adherence to a 'zero-Covid' strategy, which restricts Chinese from travelling abroad, and imposes arduous quarantines on international arrivals.
Before the coronavirus pandemic spread from Wuhan in early 2020, China was critical to the SIA Group's strategy.
According to its website, SIA and Scoot serve nearly two dozen cities in Mainland China, as well as Hong Kong, which is notorious for tough quarantines for arriving passengers.
"China is of course an important market, and not just for SIA but by virtue that it is the second biggest travel market in the world," says SIA chief executive Goh Choon Phong.
He notes that China has "very strict" operating limits on airlines, but that as vaccination rates improve in other countries, governments have recognized the need to ensure that economic activity continues.
Goh made the remarks during an interim results call with analysts.
"China's opening is not likely to happen at the moment, but we are ready to capitalize on any other opportunities that may come our way," he says.
While India is starting to open up to international travel, and its domestic market is recovering, the Tata Sons acquisition of Air India has raised questions about the outlook for Vistara, in which Tata owns 51% and SIA 49%.
Vistara is key to SIA's India strategy. Analysts, however, believe that Tata will want to merge Air India with Vistara.
Goh was noncommittal when asked about the India situation.
"With respect to Air India and Vistara, we do not disclose any confidential discussions that we may or may not have with our partners. If there are any aspects that [can be announced], we will certainly do so when the time is right."