The Indonesian government has outlined plans to merge nine state-owned tourism companies, including flag carrier Garuda Indonesia, in a move to maximise operational efficiencies.
The country's state-owned enterprises ministry states that the nine entities will be merged under a single holding company.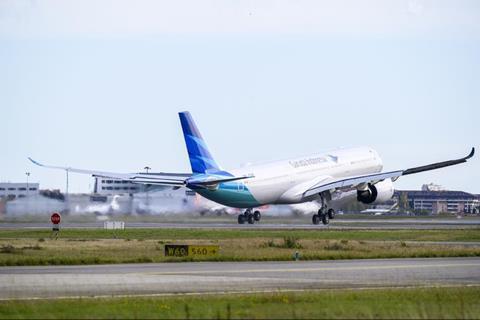 Apart from Garuda Indonesia, other state-owned enterprises that will be folded into the holding company include airport operators Angkasa Pura I (AP1) and Angkasa Pura II; hotelier Inna Hotels and Resorts; as well as department store Sarinah.
The new holding company hopes to spur the various enterprises to implement cross-sector initiatives, thus increasing competitiveness and strengthening further funding capacity. In the longer term, the ministry hopes this would improve tourism performance.
Each enterprise has also been asked to create taskforces to work out how best to collaborate and cooperate with one another. Details on the exact timeline of the new company are scant, with some indications that the legal framework could be ironed out by early next year.
The tourism and travel industry has been important to Indonesia's economy, and it has been hard hit by the collapse in demand stemming from the coronavirus outbreak.
Garuda, for instance, plunged deep into the red for the six months ended 30 June, reporting an operating loss of $726 million as its revenue evaporated from a lack of demand.
A Nikkei Asia report states that the move to merge Garuda into the holding company will make it easier for the state, which owns 60% of Garuda, to direct funds to the troubled carrier.
The Jakarta Post meanwhile, cites Garuda president Irfan Setiaputra as saying that folding Garuda into a holding company will make it easy for the airline to restructure its debt.
The move has gained the support of at least one state-owned enterprise, with AP1 stating that it was ready to join the new holding company.
AP1 president director Faik Fahmi says the enterprise will "take an active role in every planning process", including planning for "route synergies between airports and airlines".