SMBC Aviation Capital has joined the list of lessors that are suing Garuda Indonesia over unpaid aircraft lease rentals.
The Indonesian flag carrier discloses in its third-quarter results announcement that the lessor filed a lawsuit in a London court on 12 August regarding outstanding aircraft lease payments.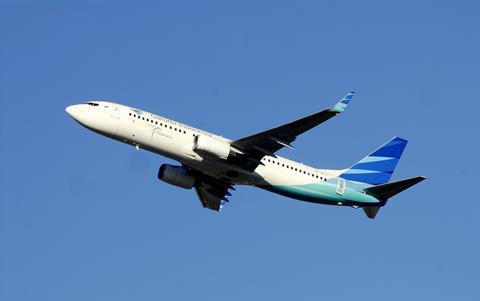 "As at issuance of the consolidated financial statement date [5 November], the trial is currently ongoing at [a] London court. In parallel the company keep[s] negotiating with SMBC, to reach [a] commercial deal and contract restructuring outside court," Garuda says.
Helice Leasing and AerCap are also taking legal action against Garuda.
On 27 March, Helice successfully applied to the Dutch courts to seize collateral for funds in Garuda's account in Amsterdam.
Later, French authorities on 29 May granted Helice's request to seize the guarantee amounts from the carrier's account, in relation to aircraft lease payments not made.
Helice has "filed a lawsuit of merit claim against Garuda in the London court and the trial is currently ongoing", Garuda says.
In addition, AerCap on 14 May filed a lawsuit in a London court over unpaid lease rentals.
As with SMBC Aviation Capital, Garuda says it is negotiating with Helice and AerCap to reach a "commercial deal" and to restructure contracts outside of court.
Last month, Garuda disclosed details of Rp8.5 trillion ($580 million) in government funding approved by parliament in July. This funding will take the form of a seven-year unsecured bond that will be converted to new shares at maturity.
The company is calling for an extraordinary general meeting on 20 November to seek shareholder approval for the mandatory convertible bond and expects to announce the outcome on 24 November.
"That should approve the new restructuring plan and at that point the disbursement of the government loan will start to happen, then we are looking at restructuring with them," a lessor with exposure to Garuda tells Cirium.
The lessor, which is not among the three that are currently suing the carrier, adds that it expects Garuda to ask for lease-rental reductions.
"I think all the lessors are willing to do something [for them], because no one wants to see them fail," the person says.
Cirium fleets data indicate that AerCap leases nine Boeing 737-800s to Garuda, while SMBC Aviation Capital leases six 737-800s.