Boeing has again delayed certification timelines for its two outstanding 737 Max variants, now estimating the Federal Aviation Administration will clear the Max 7 by early 2023 and the Max 10 by early 2024.
"On the Max 10, we will continue to work with the FAA, and expect certification in late 2023 or early 2024," Boeing Commercial Airplanes chief executive Stan Deal says on 2 November.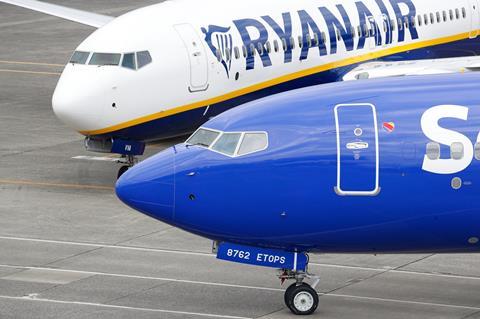 The Max 7's certification is tracking toward "later this year, or early into 2023", adds Deal, speaking from Boeing's Seattle aircraft delivery centre during a company investor conference.
The manufacturer previously said both types' certification could come by year-end, though executives had warned the Max 10's approval could slip beyond.
The new timelines make clear that the Max 7 and 10 – already badly delayed – will not receive clearance before new regulatory requirements take effect in December.
Specifically, a December 2020 law prohibits the FAA, starting this December, from certificating new aircraft that lack the type of modern, integrated pilot-alerting systems found on nearly all modern large commercial aircraft – except 737s.
The 737 Max, based on a decades-old design, has the same cockpit-alert system as found previous-generation 737s.
Accident investigators said pilots of two crashed 737 Max – in 2018 and 2019 – faced a confusing array of cockpit alerts. The accidents highlighted shortcomings of older systems and prompted the pending regulatory change.
Boeing's Max 7 and Max 10 timeline shift comes amid more-intense certification oversight by the FAA. Other aircraft manufacturers have likewise pushed back certification schedules, citing heightened FAA scrutiny.