A movement is afoot in Washington to grant Boeing an exemption needed to bring its 737 Max 7 and Max 10 through certification without equipping the types with a modern cockpit alerting system.
Boeing is now working to certificate the jets, which have an earlier-generation pilot alerting system – one largely unchanged since the first-generation 737.
But the company faces a critical December deadline, after which – under a 2020 law – the Federal Aviation Administration will be prohibited from certificating aircraft lacking a modern "flight crew alerting system".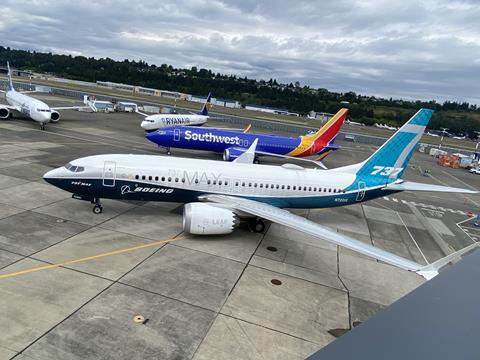 On 30 November, The Seattle Times reported that US Senator Maria Cantwell of Washington state – where Boeing makes 737s – has drafted legislation to exempt the Max 7 and 10 from the new requirement, while mandating two safety enhancements.
Boeing declines to comment, but its executives have previously said they would seek an exemption, arguing the existing alert system is safe.
Making updates would also be costly and time consuming for Boeing, and could muddle the ease with which airlines can switch pilots between various Max models, potentially diminishing demand for the Max 7 and 10.
Boeing had hoped to have both types certificated by year end, but timelines have slipped. It now expects certification of the Max 7 by early next year, and of the Max 10 by early 2024.
The 2020 law, signed by President Donald Trump in December of that year, prohibits the FAA – starting two years later – from certificating jets without modern alert systems. The requirement stemmed from two Max crashes that investigators partly attributed to pilots being overwhelmed by numerous cockpit warnings. Both jets' Maneuvering Characteristics Augmentation Systems – a flight-control system new to the Max – played a central role in the accidents.
The office of Cantwell, an influential lawmaker who chairs the Senate Commerce Committee, did not respond to requests for information about her proposal.
According to reports, her draft legislation would eliminate the end-year deadline. It would also mandate that all Max models – including in-service types, via retrofits – have two safety driven changes: angle-of-attack indicator enhancements and a means by which pilots can deactivate the jets' stick shaker.
Those changes align with European requirements for the Max 10. They also reflect what some see as a compromise: granting Boeing the exemption in exchange for other safety improvements.
"To do this a quid-pro-quo – it's not the answer," says Dennis Tajer, communications committee chair at Allied Pilots Association, the union representing pilots at American Airlines. That carrier does not have orders for Max 7s or 10s, but does operate Max 9s.
APA insists Boeing should be made to give the Max 7 and 10 a modern alert system. "It's a vastly better system", Tajer says.
Neither the Air Line Pilots Association, International (ALPA), which represents United Airlines' pilots, nor the Southwest Airlines Pilots Association responded to requests for comment. Southwest holds hundreds of Max 7 orders, while United has ordered the Max 10.
According to reports, ALPA has expressed confidence in the Max's existing design.
Flight crew alerting systems, also known as Engine Indicating and Crew Alerting Systems (EICAS), are standard on essentially all modern airliners except the Max. They are centralised systems that display all alerts and prioritise them, helping pilots take correct actions.
"Once these systems are installed and pilots have been properly trained on them, our crews will be better able to identify system failures and prioritise corrective actions that could save lives," APA has said.
The 737 Max's cockpit has two alert panels – one on the glare shield and another overhead. The system generally works well but has shortcomings, including because it does not prioritise failures, experts have said.
Still, some observers believe changing the Max 7 and 10 could create confusion among pilots, many of whom have years of experience with the existing technology, possibly degrading safety.