De Havilland Aircraft of Canada on 30 May completed first flight of a CL-415 water bomber upgraded with Collins Aerospace Pro Line Fusion avionics.
The company is working to achieve certification of the cockpit upgrade for its three turboprop-powered CL-series bombers – the CL-215T, CL-415 and CL-415 Enhanced Aerial Firefighter (EAF).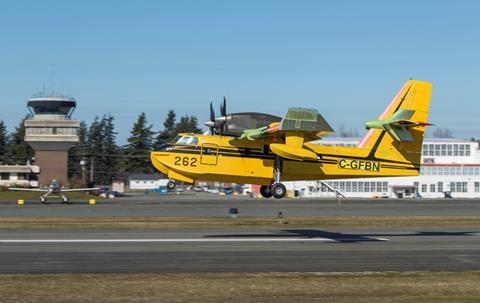 De Havilland's in-development CL-515 will have the same avionics package.
The airframer disclosed the first flight, which left Abbotsford in British Columbia, on 1 June.
"We are looking forward to Transport Canada certification in the coming months, and [to] beginning the installation of new avionics suites on the CL-215T, CL-415 and CL-415 EAF flight decks shortly thereafter," says De Havilland vice-president of programmes Jean-Philippe Cote says.
Abbotsford-based aviation services company Cascade Aerospace is assisting with the flight-testing campaign.
"This is a major milestone in the programme to upgrade the CL-415 and CL-215T aircraft with an operational enhancement solution that is absolutely state of the art and will keep those fleets effective for decades," says Cascade chief operating officer Kevin Lemke.
De Havilland's CL-series is based on the original piston-powered CL-215. The CL-215T and CL-415EAF are CL-215s modified with Pratt & Whitney Canada PW100 turboprops, while CL-415s are new-production aircraft with PW100s.
In March, De Havilland announced it is developing the CL-515, also with PW100s, with deliveries aimed to begin in mid-decade. The type will have improved corrosion protection, increased landing weight and increased water-carrying capacity, De Havilland says.