De Havilland Canada has revealed plans to build a massive new manufacturing site near Calgary where it will assemble aircraft including its newly launched DHC-515 water bomber.
The Canadian manufacturer, which disclosed the plan on 21 September, also says the site could house assembly of its Dash 8-400 and DHC-6 Twin Otter.
De Havilland halted production of both those types during the pandemic and has not restarted the lines. It will complete reviews of both programmes before deciding whether to reboot production, it says.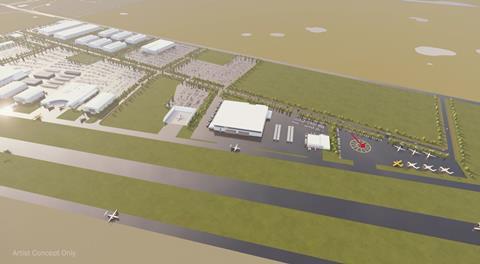 "It is our intention to bring back production for the Dash 8 and Twin Otter. We are currently evaluating as to when," the company tells FlightGlobal.
Called De Havilland Field, the new site will cover 607ha (1,500 acres) east of Calgary in sparsely populated Wheatland County, Alberta.
"De Havilland Field will be the site of final assembly for the DHC-515 Firefighter aircraft, which was launched earlier this year, the DHC-6 Twin Otter as well as the Dash 8-400," the company says. "We are currently working towards bringing the DHC-6 Twin Otter and Dash 8-400 aircraft back into production."
De Havilland anticipates soon filing a request for amendments to a land use plan, which it needs for the project to commence. It hopes to begin construction by late 2023.
The entire planned construction project will take 10 to 15 years to complete, but De Havilland expects some buildings could be operational in 2025.
"We could see aircraft production begin as early as 2025," it adds.
De Havilland Field "will consist of a new, state-of-the-art aircraft-assembly facility, runway, parts manufacturing and distribution centres, and [a] maintenance repair and overhaul centre," the company says. "These operations will complement our current parts manufacturing facilities in Victoria, British Columbia, as well as our new engineering and customer support centre of excellence in Toronto."
De Havilland chief executive Brian Chafe calls the plan "the start of a new chapter for both De Havilland Canada and Canadian aerospace".
Until the new site is ready, De Havilland says it has ability to produce Twin Otters and "a number of" DHC-515s annually at its production site in Calgary. "As production needs grow, we will need to move production to De Havilland Field."
De Havilland is now developing the DHC-515, an update to its stalwart CL-series line of water bombers, and expects to deliver the first by mid-decade.
The De Havilland Field news does little to clarify the future of the Dash 8 or Twin Otter.
"We are currently undertaking a significant review of the DHC-6 Twin Otter to ensure our product is meeting market demand," De Havilland says. The company expects to complete the review by year-end.
"Once we have completed our review of the DHC-6 Twin Otter, we will begin our Dash 8 review to determine a path to resuming production," says the company. "The aviation industry was hit hard by the Covid-19 pandemic. It appears that air travel demand is rebounding."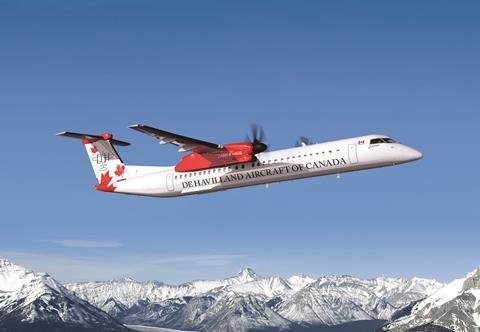 In March 2020, just as the pandemic's impact became evident, De Havilland parent Longview Aviation Capital said it was halting production of both types.
Even if De Havilland wanted to quickly restart Dash 8 production, it has no place to do so. The company exited the type's previous assembly facility, in the Downsview section of Toronto, this year when its lease there expired.
De Havilland has previously said it could resume Dash 8 production around mid-decade, if market conditions allow. Longview bought the Dash 8 programme from Bombardier in 2019.
De Havilland estimates the project will cost "hundreds of millions" of Canadian dollars and says it does not have, and does not need, financial assistance from outside sources.
"This project is not dependent on external funding," De Havilland says. "There is no government funding… We are working with the government of Alberta on important infrastructure improvements and educational investments to support the development."
Story updated on 23 September to include comments from De Havilland in the preceding two paragraphs.