Spirit AeroSystems lost $546 million in 2022, reflecting an ongoing slump in aerostructures deliveries and a disrupted production system.
The loss, disclosed by the Wichita aerostructures supplier on 7 February, came as Spirit logged hundreds of millions of dollars in additional costs and charges due to production hiccups.
The company lost nearly the same amount – $541 million – in 2021.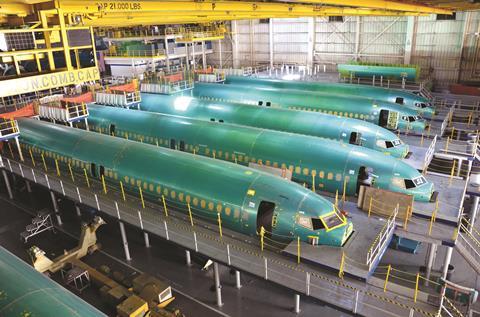 "2022 was a challenging year for the entire industry, as we worked through supply chain part shortages and labour attrition, which impacted overall deliveries and profitability," says Spirit chief executive Tom Gentile. "We learned a lot over the course of the year, which we will apply to future production rate increases."
Spirit remained deep in the red last year despite its 2022 revenue jumping 27% year-on-year to $5 billion. That gain reflects Spirit's delivery of components for 1,297 jets, up from 1,022 in 2021.
The company specialises in manufacturing aerostructures, including fuselages for Boeing's 737 Max.
Spirit succeeded in hiking deliveries last year under several of its programmes.
It delivered fuselages for 281 737s (an average of about 23 monthly), up from 162 in 2021, and components for 591 Airbus A320-family aircraft (49 monthly, on average), up from 467 the year prior.
Gentile says Spirit is working on further 737 rate ramps, aiming to deliver 420 of those fuselages in 2023 – or 35 monthly. That rate sits directly in the centre of Boeing's expectation of delivering 30-40 737s monthly this year.
Spirit also ramped its Airbus A330 and A350 programmes in 2022, delivering components for a combined 75 of those jets, up from 42 the year prior.
But troubles with the 787 programme offset those gains. Spirit delivered components for just 20 787s in 2022, down from 37 one year prior.
The decline came as Boeing and Spirit worked to address a manufacturing quality problem that forced Boeing to halt 787 deliveries for most of the time between October 2020 and August 2022.
In 2022, Spirit logged $435 million in negative financial adjustments due to production and supply chain issues.
That figures includes $250 million in forward losses attributed to "rework", freight costs, supply chain disruptions and parts shortages affecting 787 and A350 work, it says.
Spirit last year also logged $28 million in negative adjustments primarily reflecting increased 737 costs, and $157 million in expenses largely related to "excess" 737 production capacity.