The supply and labour troubles that hindered aerospace production this year seem poised to continue in the near term, with inflation and parts shortages expected to leave airframers and suppliers struggling again in 2023 to ramp production.
"In 2023, we are going to see the same disruptions, or possibly more," says Alex Krutz, managing director at aerospace and defence advisory Patriot Industrial Partners. "I think it is going to take all of next year to correct some of these fundamental issues, and I think there are going to be some changes in the supply chain because of it."
Such disruptions defined the aerospace industry and other manufacturing sectors in 2022, with executives up and down the aerospace supply chain citing inflation and parts and labour shortages as holding them back.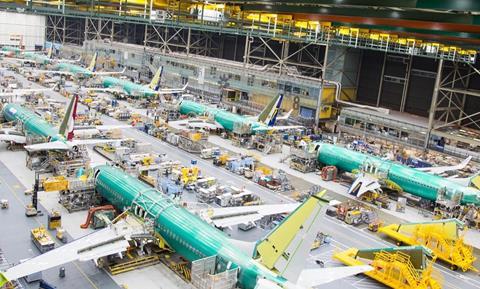 On 3 November, the chief executive of Wichita aircraft structures supplier Spirit AeroSystems ticked off various troubles.
"Supply chain disruption resulting in part shortages for our factories, labour shortages and elevated levels of attrition, and high levels of inflation – we expect some of these challenges to continue into 2023," chief executive Tom Gentile explained.
Those issues contributed to Spirit's $128 million third-quarter loss and prompted the company to launch a cost-cutting effort.
"Supply chain constraints continue to be a headwind, leading to delays in sales in the quarter," Daniel Crowley, chief executive of aerospace company Triumph Group, said on 8 November.
He says that Triumph's suppliers are delivering components on time in the mid-80% range, up from the mid-70%-range earlier in 2022. "Castings and forging providers have been the largest sources of shortages," Crowley adds. He expects on-time deliveries will exceed 90% by the end of March 2023.
In late October Boeing – for the second time in the year – cut its expected 2022 737 delivery estimate, this time to 375 aircraft. "We are short of engines," chief executive David Calhoun said.
A few days later, during a 2 November presentation for investors, Boeing Commercial Airplanes chief executive Stan Deal also called out shortages of electrical and galley components, and cited "quality issues".
"Every day there's a new one," Deal added on 13 December of supply issues, citing other shortages, including of avionics components and flight deck windows.
Michel Merluzeau, aerospace consultant with AIR, thinks the lack of enough skilled workers is more a problem for Boeing than its executives let on.
INFLATION IMPACT
Inflation, which had been running at about 8% in the USA and 10% in Europe, is chief among challenges facing the supply chain, says Krutz. Companies suddenly find themselves paying much more for materials and labour, which will "lead to cash constraints in [the] supply chain".
He also suggests that some companies might in 2023 face unpleasant fallout from creative pandemic-era financing arrangements that helped them weather the recent aerospace downturn.
Specifically, during the pandemic some manufacturers stabilised teetering supply chains by providing "forward" capital – such as through debt purchases or advance-payment arrangements – to smaller, financially struggling suppliers. Companies also received pandemic-related government aid. Some also borrowed cash at unbelievably low interest rates.
However government aid has dried up, interest rates have skyrocketed and those creative forward-capital arrangements are starting to stink.
"Someone is either going to have to write off bad debts, or go… for some period of time… without cash flow," says Krutz. "Some of that stuff starts to shake out in 2023. I don't see how it doesn't."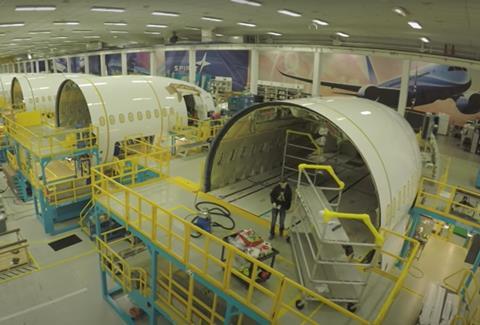 Most suppliers, big and small, ultimately support large manufacturers like Airbus and Boeing, and those companies are working intensely to hike production of narrowbody jets.
Boeing now aims to deliver 400 to 450 737s in 2023 – or 33-38 monthly. Some will come from its stockpile of already produced 737s, but hitting its goal will require faster production rates.
Boeing had, earlier in 2022, aimed to produce 31 737s monthly, though its actual output seems to be lagging far behind.
The company does not disclose actual monthly output figures, but data provider Cirium tracks first flights, which serve as a rough proxy for production. In the first 11 months of 2022, 255 737s got airborne for the first time – an average of 21 monthly, which aligns with financial analysts' estimates.
Supply chain issues led Airbus in July to delay by six months, until early 2024, its goal of producing 65 A320neo-family jets monthly. Then in December, Airbus said it will "be adjusting" the ramp further due to a "complex environment". It is sticking to its goal of hitting rate-75 by mid-decade.
Both companies are dealing with too few engines, among other issues.
In late October Safran revealed that CFM International – of which Safran and GE Aerospace are co-owners – is still running behind its delivery schedule for Leap turbofans. Leap-1As are one of two power options for A320neo-family aircraft, and Leap-1Bs are the exclusive engine for 737 Max.
"We are late with Boeing, as we are late with Airbus on deliveries," said Safran chief executive Olivier Andries. He and other executives have attributed engine shortages partly to insufficient numbers of cast-metal parts.
Krutz thinks such issues will take time to work through.
He sees 2023 as a "bumpy" year for suppliers, saying some companies could fail or be pushed into mergers that, pre-Covid, they would not have considered. "I think the supply chain will get restructured," he says.