Spring Airlines has moved ahead with plans to raise CNY3.5 billion ($540 million) from a private placement of shares, and China's securities regulator has accepted its application for the issuance.
The airline says in a Shanghai Stock Exchange filing dated 26 August: "The China Securities Regulatory Commission reviewed the application materials [submitted by Spring Airlines] for the non-public issuance of shares… and determined that [these] are complete and conform to statutory requirements and decided to accept the application."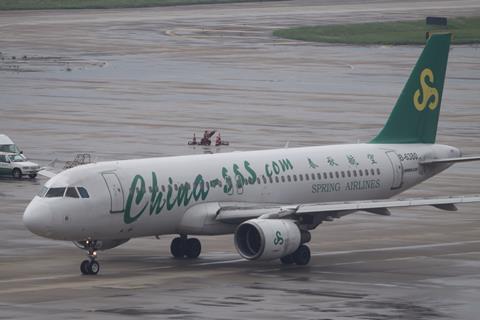 It states there is no certainty the commission will give its approval and the company will provide timely updates on the process.
Spring Airlines' board greenlighted the fundraising at a 4 June meeting and the approval is valid for 12 months.
Of the gross proceeds, CNY2.44 billion will go towards the acquisition of nine Airbus A320-family jets, which requires CNY6.69 billion funding in total.
CNY1 billion has been earmarked for working capital and the remaining CNY60 million will offset the CNY70 million Spring Airlines needs for an A320 flight simulator.
The company will offer up to 30% of current shares issued to a maximum of 35 qualified investors. The new shares will have a six-month lock-up period.
A June disclosure shows that parent company Shanghai Spring International Travel Service owns 504 million shares in Spring Airlines, equivalent to nearly 55% equity, while other Spring affiliates hold another 7.9% collectively. The remaining 37.1% is held by the public.
Spring Airlines is an all-Airbus operator with 80 A320ceos, 21 A320neos and eight A321neos currently, Cirium fleets data shows. Its orderbook comprises 30 A320neos and eight A321neos.