The first of three Boeing 737NG airframes undergoing modification into the E-7A Wedgetail airborne early warning and control configuration for the UK has had its distinctive "top hat" radar array installed.
The Northrop Grumman Multi-role Electronically Scanned Array (MESA) sensor was fitted on the future Royal Air Force (RAF) surveillance asset at STS Aviation Services' modification facility in Birmingham, the UK, prime contractor Boeing announced on 4 November.
Prior to fitting the MESA array – which had earlier this year completed testing at Northrop's Linthicum, Maryland facility – the narrowbody's mid-fuselage 'Section 46' was removed and strengthened, in order to bear the structure's weight.
All three of the RAF's on-order Wedgetails are currently in modification at the Birmingham site, with the work involving more than 100 Boeing and STS personnel. Two of the airframes were previously operated as business jets, while the third is a new-build example, delivered to the site in mid-July.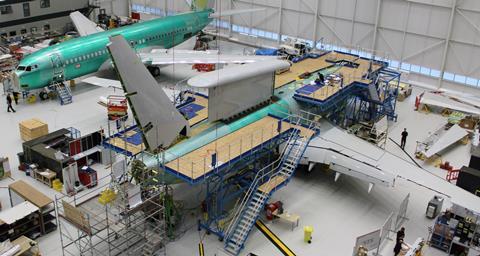 "The sensor itself is a critical enabler to surveillance and air dominance, and the E-7 Wedgetail aircraft will provide the RAF with a combat-proven advantage against even the most sophisticated adversaries," says Ian Vett, Boeing's director of the UK E-7 programme. The company adds that the system will "provide mission crews with the tools needed to track airborne and maritime targets while maintaining continuous surveillance of the operational area".
To be operated by the RAF's 8 Sqn from its Lossiemouth base in Scotland, the UK's E-7A fleet is scheduled to achieve initial operational capability during 2024. The service in 2021 retired the last of its Waddington-based Boeing E-3D Sentry airborne warning and control system aircraft, leaving a capability gap until the arrival of its future Wedgetail AEW1 fleet.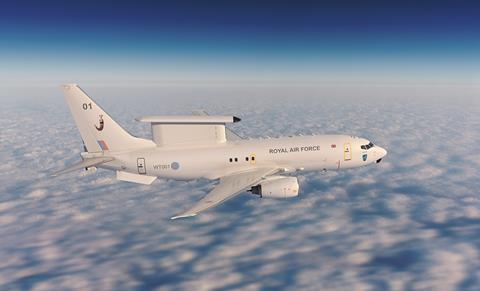 "This is a hugely complex programme that is being delivered in a difficult global supply chain environment given the challenges of the last two years," notes Richard Murray, director air support at the UK's Defence Equipment & Support procurement organisation.

Craig Hoyle joined Flight International in 2003, and has edited the now monthly title since 2015. He has reported on the UK, European and international military aviation sector for more than 25 years, and produces our annual World Air Forces directory.
View full Profile