Australia and the USA have committed to working closely on the US Air Force's (USAF's) acquisition of the Boeing E-7A Wedgetail airborne early warning and control (AEW&C) aircraft, which will replace its aging E-3 Sentries.
The commitment to work together on the programme was made in a lengthy joint statement issued by the US State and Defense Secretaries, Anthony Blinken and Lloyd Austin, and Australia's Ministers of Foreign Affairs and Defence, Penny Wong and Richard Marles.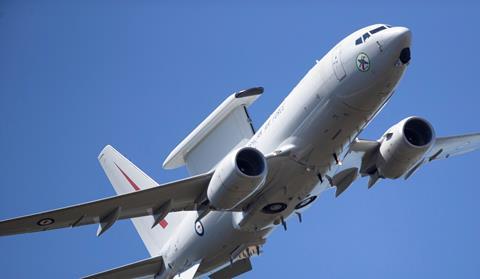 The agreement will see USAF personnel dispatched to Australia to work with Australian crews.
"The principals committed to strengthening efforts to better streamline and facilitate technology transfer and information sharing, including under the Australia-United States Defense Trade Cooperation Treaty," says the joint statement.
"They also committed to work closely on future E-7A Wedgetail Airborne Early Warning and Control Aircraft cooperation, including through the training of United States Air Force personnel by the Royal Australian Air Force in Australia."
The Royal Australian Air Force (RAAF) has played a leading role in the development of the E-7A, of which it operates six examples. In Australian service the type achieved final operational capability in 2015.
Seven years later, in April 2022, the USAF announced that the E-7 will replace the E-3 from the late 2020s.
Cirium fleets data indicates that there are 14 E-7s in service globally. In addition to the RAAF's six examples, the Turkish and South Korean air forces operate four each.
The UK is also in the process of obtaining three E-7s. Seoul may also obtain more AEW&C aircraft, but appears to be considering other platforms.
Based on the 737-700 airliner, the E-7 is equipped with a Northrop Grumman supplied multi-role electronically scanned array radar and other sensors.
The joint Australian/USA statement also touched on US airpower deployments to Australia, including what appears to be a reference to the USAF's Agile Combat Employment (ACE) doctrine. Under ACE, American aircraft are envisaged operating from dispersed, austere bases. This complicates the targeting strategy of potential foes, namely China.
"To support enhanced air cooperation, Australia and the United States committed to co-develop agile logistics at nominated airfields – including at bare bases in northern Australia – to support more responsive and resilient rotations of US aircraft."