Beechcraft's AT-6E Wolverine has secured military type certification (MTC) approval from the US Air Force, with the development representing a significant advance for the light-attack aircraft programme.
"The MTC enables global sales of the aircraft through the US government-sponsored Foreign Military Sales programme or the direct commercial sales process," Textron Aviation Defense said on 25 July.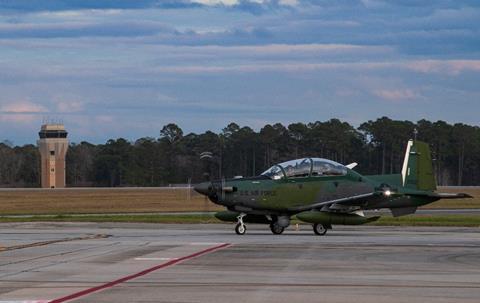 Textron Aviation Defense chief executive Thomas Hammoor describes the milestone as "the culmination of a multi-year process and a significant accomplishment for our team, opening the door for allies around the world to welcome the AT-6 into their fleets".
Two customers have so far placed orders for a combined 10 of the turboprop-powered type. The US Air Force has received two examples acquired in support of its Special Operations Command's Armed Overwatch evaluation process, while the Royal Thai Air Force late last year signed for eight armed AT-6THs. Due for delivery in 2024, these will complement 12 T-6C Texan II basic trainers also on order for the service.
The USAF's Wolverines in mid-June completed a joint training activity conducted from Moody AFB in Georgia, with this involving its Air Combat Command, plus personnel from Colombia, Nigeria, Thailand and Tunisia.
Also suitable for close air support tasks and intelligence, surveillance and reconnaissance duties, Textron Aviation Defense says the AT-6 "employs an unmatched range of weapons" for aircraft of its class.
Textron Aviation Defense notes that the light-attack model shares 85% parts commonality with the baseline T-6 Texan trainer, while its "low acquisition, operating and sustainment costs free up operator investments to meet high-end capability priorities".

Craig Hoyle joined Flight International in 2003, and has edited the now monthly title since 2015. He has reported on the UK, European and international military aviation sector for more than 25 years, and produces our annual World Air Forces directory.
View full Profile