The first Japanese-made Pratt & Whitney PW1200G geared turbofan completed its maiden flight on 14 February.
Mitsubishi Heavy Industry's (MHI) engines unit manufactured the powerplant, which was shipped last November from its Komaki facility in Japan to sister company Mitsubishi Aircraft's flight test centre in Moses Lake.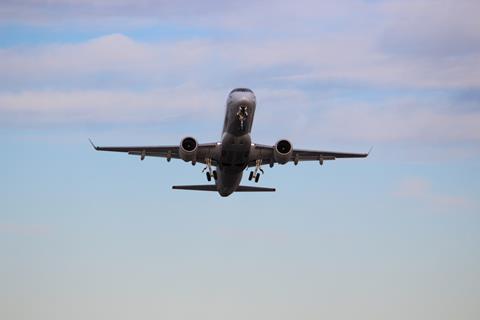 The PW1200G engine will power Mitsubishi Aircraft's SpaceJet regional jet aircraft.
The airframer says the first flight with the Japan-made powerplant was performed by the company's Flight Test Aircraft 1. The engine will join the rest of the flight test fleet in the coming weeks, it adds.
Mitsubishi Aircraft president Hisakazu Mizutani says: "This is the first flight with an engine completed in Japan, and represents an important milestone for Mitsubishi Aircraft, our SpaceJet family of aircraft, and the further development of the aerospace cluster in Japan.
MHI Aero Engines signed an agreement with P&W in 2008 for the production and testing of the PW1200G engines, with assembly of the first PW1200G engine commencing in 2017.