Mitsubishi Aircraft is planning for a low-key first flight of the SpaceJet M90 Flight Test Vehicle 10 (FTV10), owing to government policy to prevent the spread of coronavirus.
The company adds that the aircraft is "in final preparations for its first flight, which we will announce in the coming weeks."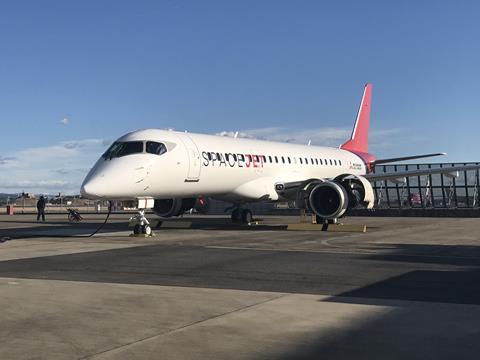 Due to Coronavirus prevention measures, however, no event or media activity will accompany the event.
The coronavirus outbreak, which originated in China, has had a major impact on air traffic and business activity in the Asia-Pacific, including Japan. According the broadcaster NHK, Japan has 1,278 infections.
The M90 was rolled out by MHI Manufacturing in January and handed over to the Mitsubishi Aircraft Flight Test Division. It has been undergoing ground tests including refuelling, engine start, ramping up to full power, and taxiing tests.
FTV10 is the first example of the SpaceJet M90 (formerly the MRJ90) produced in what the company calls its "new, certifiable baseline design."
"After the aircraft completes the first flight, we will finalise plans for it to join the flight test fleet in Moses Lake and begin the final stages of Type Certification flight test for the SpaceJet M90," says the company.
Shortly before the Singapore Airshow, MHI announced a fresh delay to the programme, which has suffered several delays over the years. M90 deliveries now expected for between April 2021 and March 2022, or later.
In addition to the M90, the company is developing the 65-88 seat M100, which is slated for delivery in 2024, and which is pitched as a competitor to the Embraer E175. Both models meet take-off weight limits for 76-seat aircraft as stipulated by major US airlines' pilot contracts.