Though global demand for air travel has plummeted in recent weeks, two aerospace analysts remain confident upstart Mitsubishi Aircraft will make good on its plan to certify and delivery its SpaceJet line of regional aircraft.
They say several challenges and much uncertainty remains, but expect air travel will recover by the time SpaceJet receives certification.
The company, meanwhile, says it intends to continue flight testing its M90 in Japan while its Moses Lake, Washington test centre remains largely shuttered due to coronavirus.
Since the pandemic started, airlines have grounded thousands of aircraft, leading some analysts to speculate carriers will increasingly seek to defer or cancel new aircraft orders, creating oversupply.
Despite such uncertainty, Michel Merluzeau, aerospace consultant with AIR, thinks Mitsubishi Aircraft and parent Mitsubishi Heavy Industries (MHI) have invested too much time, money and pride in SpaceJet to shelve the programme so close to completion.
"The Japanese are not going to pull the plug. they have gone too far," he says. "We are at the end of the line, almost."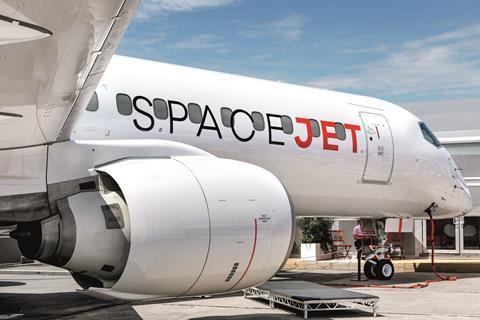 Mitsubishi Aircraft has completed five test flights, all out of Japan, of an M90 test aircraft dubbed "FTV10", says a 9 April memo from president Takaoki Niwa, who took that position on 1 April. Pratt & Whitney PW1200G geared turbofans power SpaceJets.
During those flights, the aircraft completed high altitude operations at 40,000ft, and engine shutdown and startup tests. FTV10 is the first SpaceJet produced in a "certifiable configuration", putting the airframer in the "final phase of type certification", says Niwa.
"Mitsubishi Corp is a huge company. It would take an awful lot to knock them down to a point where they think twice" about seeing the SpaceJet to fruition, says analyst Richard Aboulafia with Teal Group.
Coronavirus or not, airlines view SpaceJet as a badly needed competitor to Embraer's market-leading E-Jet lineup, he adds. "Everyone on the airline side of the house… wants a competitor to the E2."
Earlier this year, MHI further delayed the long-delayed SpaceJet programme, saying deliveries of the baseline 90-seat M90 will begin between April 2021 and March 2022, or possibly later.
But coronavirus has created further disruption.
Mitsubishi Aircraft's Moses Lake test centre, home to M90 certification work, is under a "stay at home" order until at least 4 May, says the company. A "minimum" cadre of staff – those charged with maintaining the fleet – still work at the site, though others are working from home.
The airframer says it cannot yet predict if the pandemic might further pushback its certification timeline.
"Right now it's too early to tell. We will have a better picture after the ferry flight to the US and FTV10 joins our flight test fleet to begin the final phase of certification flight tests," it says.
Mitsubishi Aircraft intends to ferry FTV10 from Japan to the USA "in the coming months", though that timeline remains uncertain. Meantime, it will continue testing FTV10 in Japan, says Niwa.
The airframer effectively reset its regional jet programme last year. It rebranded the MRJ as SpaceJet, ditched a 70-seater called the MRJ70, upgraded the MRJ90 and renamed it SpaceJet M90, and announced development of a 76-seater called SpaceJet M100.
PANDEMIC FACTOR
The recent air travel collapse creates some uncertainty about SpaceJet's business case, says Aboulafia, noting the regional sector has been hit particularly hard. In the USA alone, regional carriers Compass Airlines and Trans States Airlines folded in recent weeks.
But, he adds, "there's no reason to think it won't come back" in a few years.
That timing could align well for the SpaceJet because the M90 is still several years from certification, says Merluzeau.
He notes, however, that an extended period of cheap fuel could lead carriers to keep regional jets like Bombardier CRJ700s and CRJ900s in service longer, which might mute early demand for new aircraft like SpaceJet.
Questions also remain open about two pending mergers that stand to affect SpaceJet's market position.
One is Boeing's pending $4.2 billion majority purchase of Embraer's commercial aircraft division, still scheduled to close in the first half of 2020. Analysts say that deal would elevate the E-Jet programme, giving it access to Boeing's global supply chain and aftermarket reach.
But Boeing's dwindling cash reserves – some analysts say the company has less than a year of liquidity – have raised speculation Boeing might cancel or shelve the Embraer deal.
Such a development would spare Mitsubishi Aircraft from competing against Boeing, a competitor more formidable than a standalone Embraer, says Aboulafia.
The other pending deal is MHI's planned $550 million purchase of Bombardier's CRJ programme, which those companies have said will close by mid-year. MHI values the CRJ for its global aftermarket support network, analysts say.
Those companies have not suggested their deal will falter. But were it to collapse under the weight of coronavirus, Mitsubishi Aircraft would face the daunting, expensive prospect of developing a new aftermarket support business from scratch, says Aboulafia.
"They really need to do that Bombardier CRJ deal," he says.