UK low-cost carrier EasyJet has formalised its order for 56 A320neo family aircraft after securing shareholder approval earlier today.
EasyJet had announced its intention to order the aircraft in June as part of its onging fleet renewal and upgauging. The agreement also includes converting 18 A320neo from its order backlog to the larger A321neo model.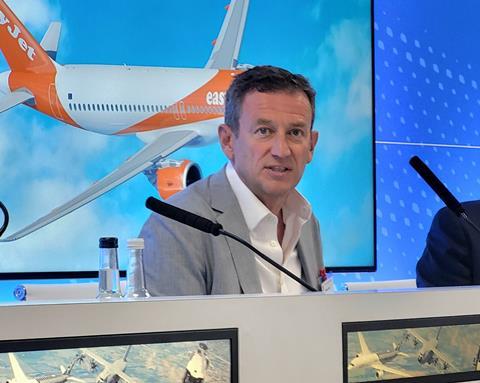 The low-cost carrier has again ordered CFM International Leap-1A engines to power its latest batch of the re-engined narrowbody.
EasyJet chief financial officer Kenton Jarvis says: "We believe this order will support positive returns for the business and the delivery of our strategic objectives. The new aircraft are aligned with EasyJet's sustainability strategy, with the adoption of the more efficient new technology aircraft being a core component of easyJet's path to net zero-emissions.
"Alongside this, the new aircraft are significantly quieter, with half the noise footprint of the older aircraft they are replacing."
It takes aircraft order commitment announcements, including tentative deals confirmed as firm business, at this year's air show to 374. Most of these orders, including EasyJet's, represent repeat business for an aircraft type.
While low-cost carriers have been prominent in ordering aircraft at air shows over recent years, EasyJet is the first from the sector to order aircraft during Farnborough this year.