UK budget carrier EasyJet has set out a plan to slash carbon emissions by 78% by 2050, with an interim target of 35% by 2035.
EasyJet will then use carbon removal to address residual emissions, in order to reach a 2050 net-zero objective.
The airline says it aims to achieve the savings through continuing renewal of its fleet – including early adoption of zero-carbon aircraft – and the use of sustainable aviation fuels.
EasyJet says Rolls-Royce is carrying out "final preparations" for initial hydrogen engine tests, part of a tie-up with the carrier disclosed earlier this year.
The airline will also exploit operational efficiencies including optimisation of descent profiles, the use of engine-washing, and single-engine taxiing.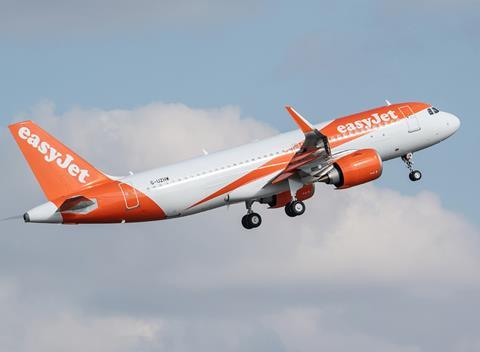 Part of EasyJet's strategy relies on the "potential" for reduction of emissions by 2035 through redesign of UK airspace and implementation of other European air navigation service improvements.
"Investments will transition away from offsetting to focus on driving in-sector emission reductions to deliver our 'net zero' roadmap," says the carrier.
EasyJet chief Johan Lundgren says the "ambitious" roadmap marks a "significant acceleration" in its decarbonisation targets.
He says the scheme has been validated by the Science Based Targets initiative, a partnership which aims to support companies seeking to cut emissions.
"We will be implementing our roadmap step-by-step in the years to come, helping to ensure more sustainable travel is accessible to all for the benefit of the next generation and our planet," he adds.
Airbus says EasyJet will invest in descent-profile optimisation enhancements to the flight-management system on board its single-aisle fleet, and enable continuous descent approaches which allow aircraft to use only idle thrust in the transition from cruise to touchdown.
The airframer says the carrier will become the largest worldwide operator of the combined tools, and will complete the flight-management system upgrade across its entire A320 fleet by the end of next year.
Use of the descent-optimisation function and employing continuous descent approaches with compatible aircraft will save 98t of fuel annually per aircraft, claims Airbus.