Electric motor manufacturer Evolito believes a recent funding boost from the UK Aerospace Technology Institute (ATI) can help it maintain its technological edge in the sector.
Revealed on 18 July, the £11.1 million ($13.4 million) grant to an Evolito-led consortium under the UToPEA project will see the development of a super-lightweight electric power unit (EPU).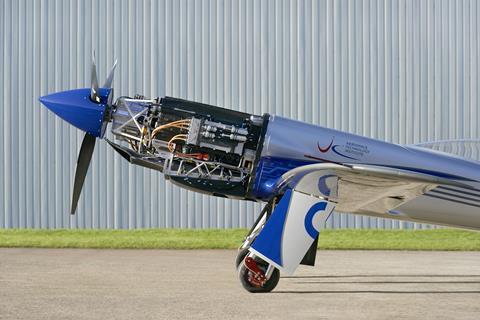 Evolito was spun out of automotive supplier Yasa Motors in 2021 following its acquisition by Mercedes-Benz.
Ajay Lukha, chief commercial officer at Evolito, says the initiative will be a "wonderful platform for demonstrating the transition from mass market automotive to aerospace [applications]".
Although declining to specify a power rating for the unit, it will weigh around 20-30kg (44-66lb) and be suitable for a range of applications including electric conventional, short and vertical take-off and landing aircraft.
Evolito recently added to its capabilities with the acquisition of aviation battery start-up Electroflight. Both companies were part of the Rolls-Royce-led ACCEL project that last year took the world record for the fastest electric aircraft.
Electroflight has a "really deep understanding of integrated electric propulsion systems", including the certification and safety requirements, Lukha says.
The acquisition will also allow the combined company to offer an entire electric propulsion system or individual sub-systems.
For the ACCEL project three motors were combined to produce the necessary power output, and Lukha sees this architecture continuing on future applications.
Customers in the general aviation market have already been signed up, he adds, although he declines to reveal their identity.
But the push into the aerospace market as a whole system supplier will bring Evolito into competition with major propulsion suppliers, not least of which will be former partner Rolls-Royce Electrical.
However, Lukha is unconcerned: "We proved the technology in the automotive market where we clearly had better technology than leading tier one suppliers to automotive OEMs.
"It doesn't take a great leap of thinking [to conclude] that will also be applicable in aerospace."
Construction of a new manufacturing facility at Evolito's Bicester site in the English Midlands is under way, and will come on line next year.
Electroflight, which will eventually be rebranded, will stay at its current location at Staverton airport in Gloucestershire.