Qatar Airways has been spurred by the operational disruption at London Heathrow to revisit a previous plan to establish its own ground-handling service at the UK hub.
Heathrow's operator has imposed a two-month capacity cap to limit daily departing passenger numbers to 100,000 over the summer peak.
Speaking during the Farnborough air show, Qatar Airways group chief Akbar Al Baker said the carrier was having to reduce capacity by as much as 30-40% in order to comply with the cap.
"As an operator it's very difficult for me to tell how long it will take [to resolve]," he says.
"What's disappointing to me is that we were given such short notice. Airlines need at least three months' notification to block the reservation system so we comply with the reduction in capacity."
He says the carrier is assessing both a reduction offered seats and a complete withdrawal of some services to establish which is the more effective mitigation strategy.
"But keep in mind it's having a huge financial impact on airlines – and especially now, when the industry is just recovering from [the pandemic]," he adds.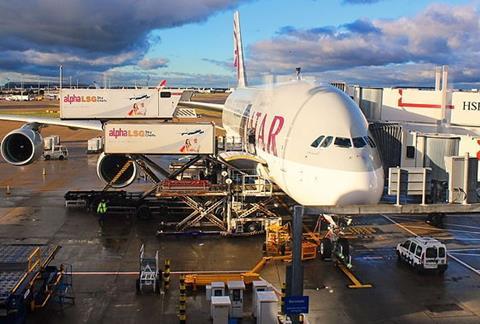 Rival Middle Eastern carrier Emirates' sister company, Dnata, handles its flights at Heathrow, and Al Baker says he is "re-invigorating" the idea of setting up a similar service to handle Qatar aircraft.
"We'll bring our own brand," he says. "But, of course, we'll have to recruit and create jobs in the UK."
He believes the staffing crisis at Heathrow has been caused by ground-handlers seeking new jobs elsewhere after the pandemic wrecked the air transport market.
But he argues that this has been exacerbated by the UK's 'Brexit' withdrawal from the European Union.
"Another mistake is that, with Brexit, there are certain professions that cannot be done by [non-UK workers]. These are the kind of works that were being done by people coming from the continent," says Al Baker, adding that the capacity shortage will be dragged out by the time needed for workers to obtain security clearance.
Qatar Airways is operating Airbus A380s as well as Boeing 777-300ERs on the Doha-Heathrow route.
After the grounding of Airbus A350s over the skin-paint legal row, Al Baker claims the "only alternate" to sourcing sufficient capacity was to recommission eight of its A380s "at high cost" – using seven and keeping one as a spare.
But he insists the A380 is only experiencing a temporary reprieve. "We need the capacity but, as soon as I start getting deliveries of aircraft and we get enough capacity, we will ground them," he states.