Aerolineas Argentinas will bring two Boeing 737-800BCF freighters into its fleet, adding "a significant increase in cargo transport capacity" to its operations.
The Buenos Aires-based carrier said on 30 December that the two aircraft, due to arrive in the fleet in the first quarter of 2023, are part of a deal with Mirgor Group, an Argentine company that produces electronics and automotive components, and exports agricultural products.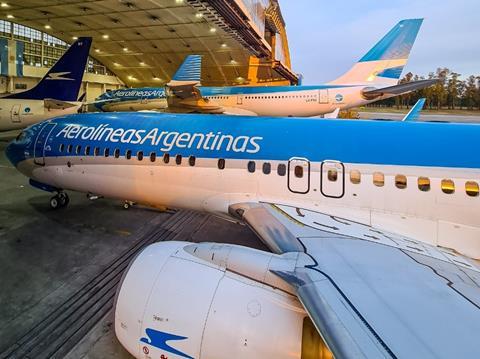 "In this way, Aerolineas aims in 2023 to grow in the cargo transportation business with aircraft 100% configured for this purpose," the company says. "In this first stage of operations, Mirgor will be its main partner, using part of the cargo capacity of the new aircraft."
The agreement will allow Mirgor "to continue enhancing its logistical capabilities and strengths and serving its customers better and faster".
Though the freighters are the first dedicated cargo aircraft for the state-owned flag carrier of Argentina, Aerolineas says in 2022 it has transported large amounts of agricultural products including cherries, salmon, seeds and meat to the United States, Europe the Middle East and other international destinations in the belly cargo of passenger flights.
"The new planes will allow a significant increase in cargo transport capacity," the airline adds.
Aerolineas currently operates a fleet of 39 737s, of which seven are Max 8s as well as eight Airbus A330s and 18 Embraer E190s.